2010 Canon EYEcon winner named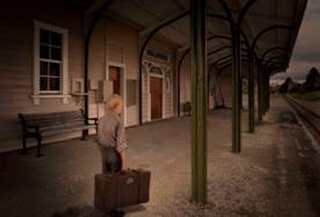 Kevin Bone has been named the winner of the 2010 Canon EYEcon photographic competition with a portfolio the judges described as captivating, emotional and eerie.
Kevin, a photography student from the Universal College of Learning, will be awarded a prize pack unlike any other. The combination of cash, Canon products and a full day on location with each of the four EYEcon mentors – Lauretta Goode, Peter Meecham, Chris McLennan and Cory Scott – makes it the most substantial prize for a competition at this level.
Leading New Zealand photographers Lauretta Goode, Chris McLennan, Cory Scott and Lawrence Smith (in Peter Meecham's absence) judged the submissions of work in a lengthy and detailed judging process.
Kevin's six submitted images were lauded by the judging panel as having a perfect balance of originality, lateral thinking and photographic technique. "Kevin's work is truly thought provoking," stated one judge's comment. "The control over the medium shows impeccable skill and the emotion draws out all these childhood memories."
Kevin says when creating the images in this series he was aware that they would invite the adult viewer to see childhood from their adult perspective. "The images are designed to invoke the viewer to consider their own story and to re-create their own childhood through this process of fiction making,"
Rochelle Mora, Brand Manager – Imaging at Canon New Zealand, said Canon is thrilled with the outcome of the 2010 EYEcon photographic competition which reached tertiary photographic students and apprentice photographers across the country.
"The response was outstanding and the calibre of the final portfolios showcased the incredible talent and creativity of our future stars in the photographic industry. Every year we see a raising of the bar in this competition and we're sure that next year will be no exception. We can't wait to roll out the competition again in 2011.
"We are excited to be able to offer this once-in-a-lifetime opportunity to Kevin. We wanted a concept that would give the winner an experience that will shape their career. This competition encourages our up-and-coming talent to explore what and who inspires them as a photographer," says Rochelle.
Second place was awarded to Anna Kernohan, currently a third year student studying Applied Visual Imaging at Universal College of Learning. The judges said Anna's submission was a "stunning collection of technically brilliant work with beautifully treated images and a strong communication of ideas,"
This year's competition saw strong contention for a place and the judges felt that special mention was fitting for Danielle Colvin, second year student from Christchurch Polytechnic Institute of Technology, and Agnieszka Witkowski, also a second year student. Judges agreed both submitted "exceptional portfolios and are photographers to watch out for."
Provides imaging solutions for commercial and residential markets.
Learn more