2010 Volkswagen Service Qualification World Champions honoured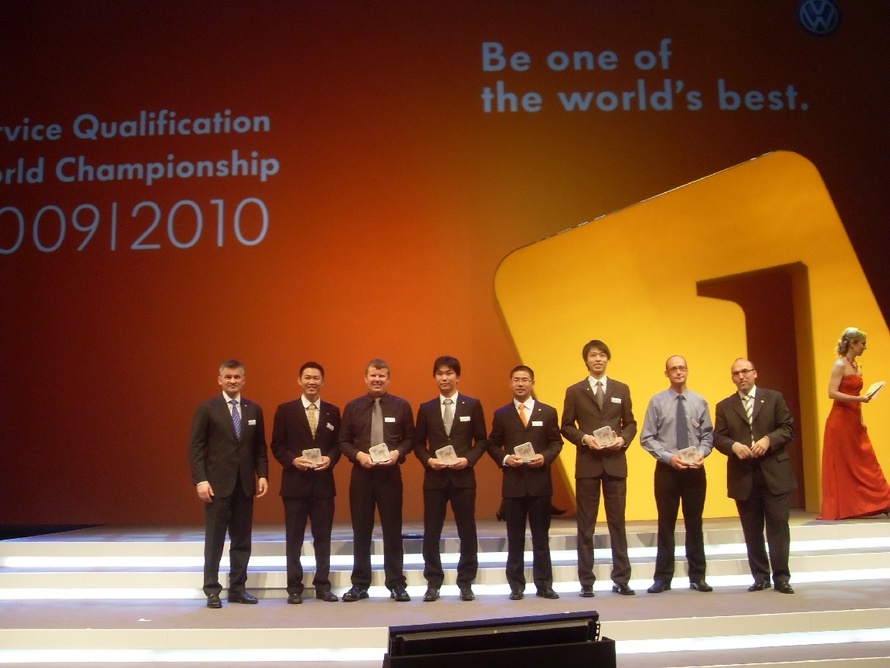 Specialist knowledge and personal commitment are the key to success in the Volkswagen brand's 2010 Service Qualification World Championship. The finals held in Wolfsburg at the weekend were won by service adviser Andreas Schaefer from Kuwait and service technician Johnny De Cocq van Delwijnen from the Netherlands. They produced the best performance out of the 120 service specialists from 60 countries who competed in the many practical and theoretical tests – from vehicle repair to customer consultation over 2 days"
This was the third time the competition has been held in Germany. In addition to the world champion titles, the regional winners were also honoured this year. New Zealand Service Advisor Glen Marsden from Miles Continental Christchurch attended the world finals and placed 1st in the Asia-Pacific region and 4th overall in the world. Our Master Technician Mark Straffon from Bay Prestige Tauranga, placed 3rd in the region and 16th overall in the world.
In addition for his 1st place in the Asia pacific region Glen Marsden was also awarded with an individual prize from Castrol (official partner of Volkswagen), which will see Glen attend a FIFA World cup 2010 game in South Africa Steve Wilson, Volkswagen National Service Manager, European Motor Distributors Ltd, attended the award ceremony on the Saturday evening. He said: "This event was a celebration of their skills at the highest level, right here at the home of Volkswagen. It was a privilege to be among so many talented people with a passion for service and the Volkswagen brand, for Glen Marsden to achieve 4th best Service Advisor in the world and Mark Straffon 16th best Master Technician in the world for Europe's largest auto maker is very impressive".
"It should not be underestimated what it took to achieve these results; by honing their skills on a daily basis in the workplace they ensured that they would be ready for this competition. Both winners although very proud, vowed to be back next year to do even better." Wilson said he was impressed with the high level of professional competitiveness throughout this championship competition.
The aim of the Qualification World Championship is to further expand the level of service quality offered by Volkswagen aftersales. With 2 preliminary rounds and national finals in over 60 countries around the world, and then the finals in Wolfsburg, Germany; the competition forms an important bridging function between the manufacturer, the importers and the retailers in the markets. This is how the expertise of service advisors and technicians can be tested, and targeted training initiatives catering for all individuals in our aftersales network can be created. In addition, the Qualification World Championship also helps to steadily raise and maintain the motivation of our aftersales service specialists.