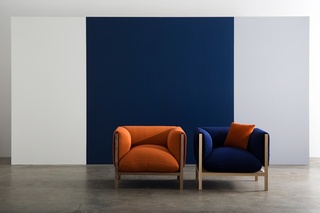 Corporate Culture unveils its new identity, Cult, and launches its furniture collection produced in collaboration with Adam Goodrum.
Australia- and New Zealand-based furniture company Corporate Culture has rebranded as Cult. Company founder and director Richard Munao announced the rebrand at an event at White Rabbit Gallery in Sydney on 17 June, where he also launched a new furniture collection designed by Adam Goodrum.
When it first emerged on the Australian market in 1997, Corporate Culture focused initially on the corporate office environment, supplying boardroom tables, chairs, desks and soft seating for public-facing areas of the workplace. As boundaries between the workplace and the home began to blur and the design of corporate environments started to reflect a more relaxed, collaborative workplace, Corporate Culture's collection expanded to include a broader selection of loose furniture. In 2009, Munao launched Cult as the residential arm of the business.
The company's rebrand reflects a shift in the local market towards what the company refers to as a "lifestyle dynamic." As workplaces lose their formality, and hot-desking and bring-your-own-device initiatives call for a more flexible design approach, demand for furniture that is equally suited to domestic and workplace environments has grown. This has opened the door to greater individual expression, allowing timber tables to function in the dining room and the boardroom and enabling classic swivel chairs to convey style at home and in the office.
Though trading under a new name, the company will still represent all of the international brands that have helped make it such a successful organization in the Australia and New Zealand market. Its collaboration with Sydney-based designer Adam Goodrum on the new furniture collection also marks an important investment in local design talent.
After seventeen years, the Corporate Culture name cedes to that of Cult. The new brand is accompanied by a new graphic identity, while colour palettes and product displays in the showrooms in Sydney, Melbourne, Brisbane and Auckland are already reflecting the organization's new journey.

Furniture and solutions provider for architects and designers.
Learn more