A Karbon copy of the perfect tap!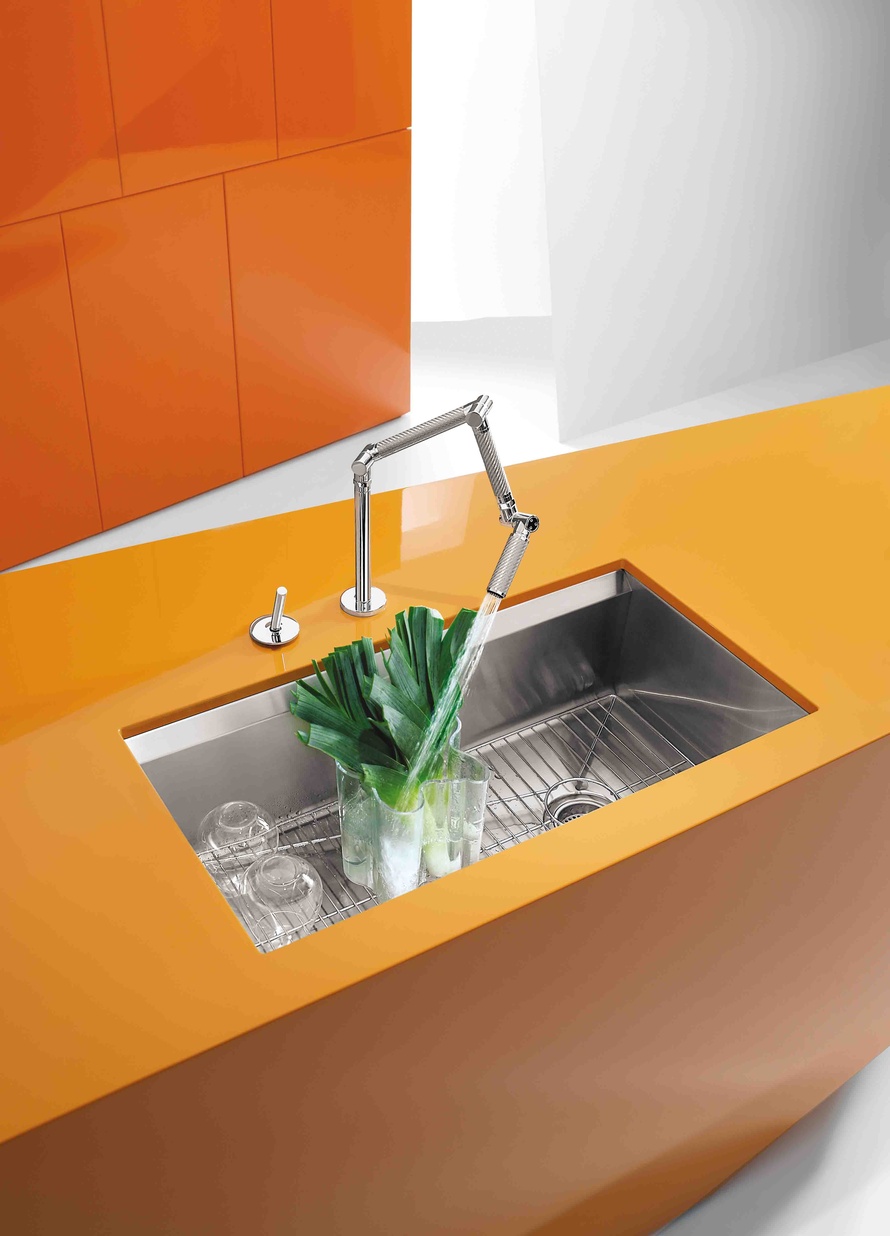 Worldwide research into kitchen taps has shown key features, desired by consumers from the UK to Russia and the US to New Zealand, are a swivel head, long reach spout with spray feature and eyecatching aesthetics.
Kohler, a leading global brand in kitchen and bathroom tapware, has examined the buying patterns and demands of consumers in all of its markets and found similar trends in each.
Kitchen mixer taps, says Kohler, have achieved new status in the appliance pecking order. They are expected to have extensive functionality – a drenching but low volume spray for cleaning fruit and vegetables; a forceful flow for washing greasy pots and pans; and a long reach spout for filling tall vases and buckets. In addition they must excel in water conservation while exhibiting stand-out good looks as they take centre stage in the busiest room in the house.
Kohler states more is expected of the kitchen mixer tap than ever before – it has moved from utilitarian work horse to state of the art design and technological statement. The company invests significant amounts of time and money in examining exactly how the tap is used in everyday chores and then utilises this research to develop a more intuitive tap.
And while the company's research and development is ongoing it has found the ground-breaking articulated Karbon mixer tap, introduced to New Zealand two years ago, is still the most relevant tap in today's most sophisticated markets.
Kohler's Karbon mixer tap, featuring braided stainless steel and carbon fibre composite tubing (for superior strength), was inspired by lighting and construction equipment whose articulated joints enable precision positioning.
The 5 star WELS rated mixer features a sleek, deck-mounted joystick for easy grip and precise temperature and flow control; a choice of forceful spray and laminar water flow options accessed at the touch of a button; and four slender, tubular sections joined by industrial-design articulated joints so the tap can literally be positioned exactly where it is needed and then left there.
The versatility and reach of the tap is ideal for filling tall vases and pots, for food preparation and for all cleaning and rinsing tasks.
Whatever position the Karbon mixer tap is left in instantly becomes a sculptural artform – it will remain in exactly the position it is left, leaving both hands free for food preparation and cleaning.
Each of the articulating joints has been engineered to ensure exceptionally smooth and effortless handling and positioning.
The Karbon kitchen mixer tap, by Kohler, features the brand's signature polished chrome finish that is resistant to tarnish and corrosion. It is available nationally from the Kohler Design Centre and Mico stores nationally and retails for $2129.
For details go to www.kohler.co.nz
www.micobathrooms.co.nz

Since 1873, Kohler has been leading the way with design and innovation for bathrooms and kitchens.
Learn more
Head Office
Kohler
133 Diana Drive
Glenfield, Auckland
Phone: 09 980 6...
Regional Office/Distributor
Kohler Design Centre
Level 3, 65-73 Parnell Rise
Auckland
Phone: 09 336 1...