Aarque Group Ltd now 100% New Zealand owned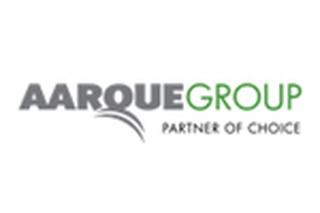 November 11, 2011 – Auckland, New Zealand – Aarque Group Ltd has successfully transited to a new era of 100% New Zealand ownership, effective today. After forming Monte Carlo Group almost two decades ago and acquiring 50% of the company then, principle shareholders - Peter Bult, Leo Bult, and Jason Bult - have formed Tuscany Enterprises Ltd in order to acquire the remaining shares previously held by the Australian ASX listed HGL.
Peter Bult, CEO, says "We were excited at the prospect to fully manage and control the company on a local and entirely New Zealand basis, and embraced this opportunity. We have a solid history of growth and adaptation to new and changing markets, and this ownership change gives us further agility with 100% New Zealand ownership and management."
The change comes on the back of a tough Global Financial Crisis, the print industry affected more than many. At a time many businesses are consolidating and retrenching, Nick Cimino, John Myers, and Mellissa Bult of the Monte Carlo Group and Peter Bult, Leo Bult and Jason Bult of both Monte Carlo Group and Tuscany Enterprises, have expressed confidence in the New Zealand print industry through further reinvestment in the business, acquiring full local control.
Leo comments "We have strong local knowledge of markets, businesses and partnerships. Our partnerships with key players in our industries have helped us build business, and we value partnership in an economy that places regular pressure on price and supply. These partnerships have also allowed us to build stronger inventories, support services, and add new agencies to again reinvest value back in to the New Zealand print industry."
Very much in the 'Think global act local' mind set, Jason Bult, Business Development Manager, sees strong benefits for off-shore suppliers and agencies. "Over the years we have built strong partnerships with key agencies and suppliers across the print industry from countries such as Australia, Japan, US, UK and Europe. Now with solid 100% New Zealand direction, we offer these partners the same well established Aarque Group channels to market, paired with rapid decision-making and the agility required by rapidly changing technologies in print."
Peter adds "We are initially looking to maximise current opportunities. Further investing in our industry, our people, our processes, and our delivery to market. We appreciate and value the strong partnerships we have with our customers, suppliers, and staff alike, and thank all our partners for their support."
The ownership change is effective immediately.
About Aarque Group Ltd Aarque Group is an independent supplier of large and small format copying and printing technology, consumables and service. Aarque Group has nationwide sales and technical expertise, partnering with clients in a diverse range of industries, including: Architecture, Engineering and Construction (AEC), Geographic Information Systems (GIS), Signage and Screen Print, Pre Press and Proofing, Print Bureaus and Copy Shops, Exhibition and Retail Display, Graphic Design and Advertising, Fine Art and Photography, Dye Sublimation and Textile.
A History 1948 - British firm Harding and Hallden establish in New Zealand as a coater and converter of sensitised media. 1968 - Renamed to GAF Corp, part of German IG Farben Group (Bayer, Agfa, Hoescht and Kalle). 1982 - Bought by Richard Quintus Anderson and renamed Aarque. 1988 - A series of ownership changes at the peak of the sharemarket - Chase Corp, Anzon, and Solander Holdings. 1990 - Hancock Gore Ltd (HGL) merge Aarque with several office product providers forming Aarque Graphics NZ Ltd. 1992 - 50% of Aarque Graphics acquired by New Zealand entity Monte Carlo Group. 2007 - Aarque Graphics NZ Ltd acquires Frontline Technologies. 2009 - Aarque Group Ltd formed. 2011 - Final 50% offshore interest acquired by Tuscany Holdings Ltd, bringing Aarque Group in to 100% New Zealand ownership.

Provider of large and small format copying and printing solutions.
Learn more