Access Pacific launches new website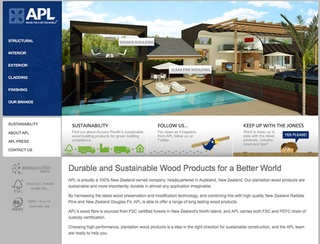 The 100% New Zealand owned and operated sustainable timber company, Access Pacific Limited (or better known as APL), proudly launches its new website to promote its high performance, environmentally friendly wood products.
The website, designed by acclaimed New Zealand designer, Belinda Duffy, has been created to appeal not only to retailers, but also to building specifiers and architects, providing a contemporary and interactive experience through a user friendly interface. The website communicates the importance of using durable, high quality products that are produced using responsible supply chain methods for sustainable construction.
The family business, started up by young entrepreneur, Daniel Gudsell, was propelled into the spotlight when it won the Deloitte Fast 50 Award in 2006, for being one of the top 50 fastest growing businesses in New Zealand. "The international appeal of our products has allowed APL to sustain rapid growth" states Gudsell.
What does APL do that's different to other timber companies you might ask? APL's Business Manager, Ben Campbell, believes the company distinguishes itself by consulting the market to discern exactly what it requires, and then produces products to meet that demand. These products are made using ethically sourced wood fibre and the latest wood preservation technologies and finishing methods.
APL is currently developing some exciting new products: InGrain Lining and Flooring, which are high-end interior products for architects and specifiers, and Smarthaus, an economical, environmentally friendly cyclone proof house.
Certified by the Forest Stewardship Council (FSC) and the Programme for the Endorsement of Forest Certification (PEFC), APL's business focuses on the importance of providing precision products without sacrificing the environment.
To find out more about APL and to see their new website, visit: accesspacific.co.nz.