Ambitious new Kingspan global headquarters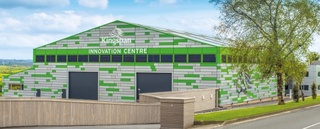 The Kingspan Group have embarked on an ambitious refurbishment of their global headquarters in Kingscourt, Ireland, which will make it one of the world's highest performing buildings.
The aim of the project is to renew the 1969 building into a landmark net-zero energy commercial building. From humble beginnings as a small office, it has grown to become home to Kingspan Group's head office and Innovation Centre.
The Kingspan Group is committed to ensuring that all its facilities worldwide are net-zero energy by the year 2020. Lead project architect Miguel Paya-Marin explains the process. "Our main aim is to use this as a flagship project leading the way for the net-zero energy global objective. But we also want to make a design statement and showcase some of Kingspan's most innovative products."
The new BENCHMARK façade of the building certainly makes that statement; it is both chic and functionally smart. A ground breaking metal cassette system with spectacular shapes and features perfectly complements the building's setting, while a metallic coating on the building changes colour according to the reflected angle of the sun. In terms of built-in performance, the facade delivers all the benefits of a modern insulated panel, but it also features integrated solar PV that will generate some of the building's electricity needs. The roof PV modules installed into the building in 2011 by Kingspan Energy, continue their impressive production of circa 100,000 kWh of electricity per annum.
But the harnessing of solar power doesn't stop there. A new and improved version of Sol-Air has been installed which uses passive solar heat gain to warm air in ducts built-in to the panel, before supplying it to the underfloor heating system.
The building now makes better use of natural light which floods in through special Kingspan polycarbonate roof panels, retaining the building's internal heat. Combined with the solar PV modules and an intelligent lighting system, the building is lit consistently and efficiently. The system reduces lighting energy consumption by over 80%.
It's likely to be able to generate further on-site electricity in future. A planning application has been lodged for a 15kW wind turbine, Kingspan's latest model. And there are now five electric car charger ports, to encourage more environmentally friendly forms of travel by staff and visitors.
As the building progresses, one thing is certain; Kingspan continues to demonstrate its leadership position on energy efficiency and sustainable design technologies. The building offices are now net-zero energy and the Innovation Centre is well on its way.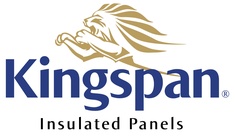 Manufacturer and supplier of insulated wall and roof panel systems.
Learn more
Kingspan Insulated Panels products