Atmosphere and warmth with Escea fireplaces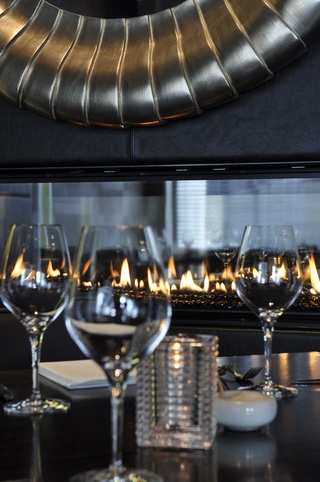 Determining the identity and character of your restaurant or bar is your first priority when creating the feeling of the establishment you're designing.
Punters pace streets eyeing up different places to find the one they identify with, the one that draws them in and the one they relate to. Creating an overall experience for the customers is essential to creating and retaining a clientele. Design and aesthetics are a primary source for inspiring your atmosphere, and in turn your customers' experience. Lighting, accessories, and heating are important factors to consider in this process.
Lighting

Lighting is one of the fundamentals of designing any interior. Whether you wish to create a soft, ambient atmosphere or impress your guests with dramatic and theatrical lighting.

The fresh and vibrant bar and nightclub in Cornwall, the Cribbar Surf Bar has taken lighting to a whole new level – in all areas of the establishment, from the bar mirrors, to the main lighting and even the bathrooms.

In the case of The Pumphouse Hotel in Melbourne, a combination of indoor, outdoor and natural lighting is used to create a warm and inviting atmosphere. The lighting elements can be mixed and matched depending on the clientele and the ambience required for a particular function.
Accessories

You want your new establishment to stand out from your competitors and a great way to do this is to accessorize your bar.

Think about places such as the Hard Rock Café, with its music memorabilia, or The Lone Star Cafe with its Tex Mex styling.

Make sure your accessories closely match your chosen style and that they are appropriate for the type of place you are trying to create.
Heating

Whether it's an indoor or outdoor fireplace, the presence of a fire in a bar creates an instant feeling of warmth. Escea designs and manufactures indoor and outdoor gas fireplaces in NZ, which are renowned for their design, technology and efficiency. Whether you're intending to create the perfect spot to enjoy a warming wintery drink or to add ambience to your outdoor bar or terrace, by adding a fire this automatically gives the impression of a cosy, inviting space.

Fires in outdoor areas can create a more comfortable experience for guests – especially on cooler nights - and may mean they choose to stay long into the night. In addition, Escea indoor fires can add style, sophistication and a beautiful focal point. Both create a gathering point for relaxation and lively discussions.

Escea fires are a perfect fit for any hospitality establishment as they are whisper quiet and feature the revolutionary Smart Heat system, which allows you to control the fireplace from anywhere, anytime via a Smartphone or web.

Escea indoor and outdoor fires have proven to be a winner with bar owners and designers, due to their selection of fascias and fuel beds which complement any design style.

One reason Escea gas fires have proven so popular in bars and restaurants is the installation flexibility granting endless options for location in the room because of versatile flue technology. The double sided Multiroom DX Series gives diners or drinkers, in more than one area, the benefit from simply one fireplace. By means of a heat ducting system, the heat from the fireplace is circulated into multiple areas within the restaurant. In addition, patrons in two areas can view the flames as the double sided option grants a viewable area from either sides of the wall.

If you are considering installing a gas fire into your next hospitality project, feel free to contact the Escea Architectural Advisory Team.