Automation Associates powers Red Bull drift shifters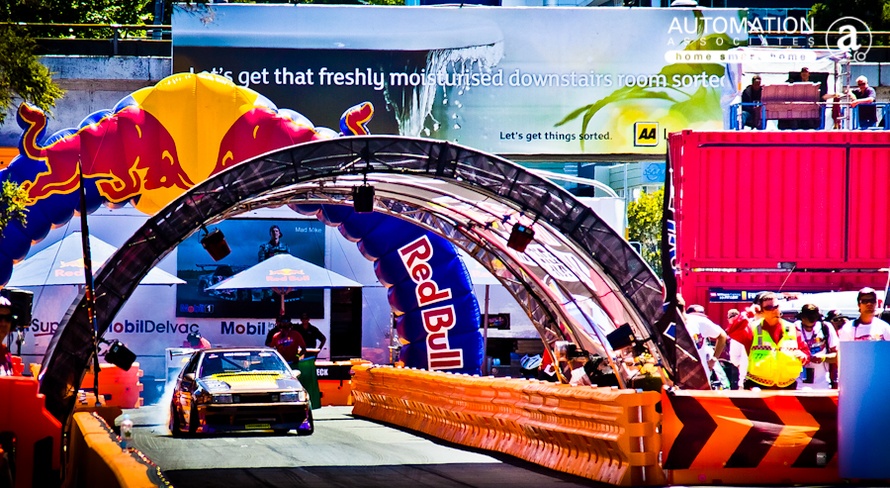 Saturday 8th of December Victoria St West in Auckland's CBD saw national and international professional drift car drivers battle it out in a giant Pinball style course in front of over 10,000 spectators. An original concept devised by driver "Mad Mike" Whiddett had the drivers judged by the custom designed, computer controlled Automation Associates system - the first time in the world that a panel of judges has not been used for scoring a drifting competition, and thus removing all subjectivity.
Red Bull approached custom installation company Automation Associates with the concept of using drift cars as pin balls in a giant pinball game. Charged with this unique brief, Director Brendon Reid designed and built a system of proximity sensors, placed around the arena to be triggered by the cars and relay score information via custom software to a giant led screen. The system also triggered sound, lighting and smoke effects to enhance the overall effect of a giant pinball game.
The system used proximity sensors to gauge distance to within millimetres as the drift cars navigated the course. As in a regular pinball game, triggering one sensor gives a set number of points and triggering two or more sensors generated a combo for additional points.
Automation Associates Director Brendon Reid comments "Working with Redbull and Mad Mike was a blast, these guys laid down the challenge and the team here at AA delivered an exceptional system on the day".
More information available from Automation Associates:
www.aa.net.nz
Ph: +64 9 377 3778