Avantidrome teams up with Philips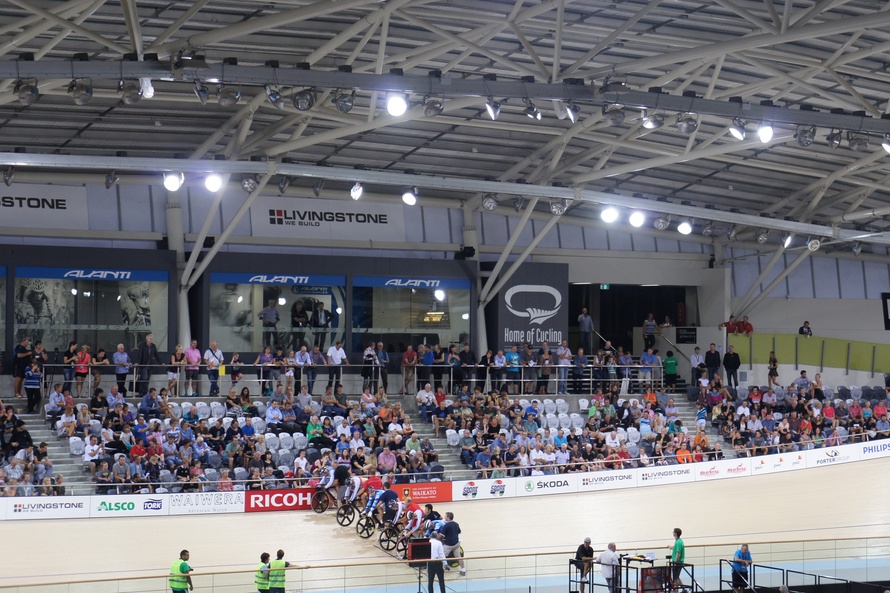 The National Cycling Centre of Excellence Avantidrome in Cambridge comprises a fully enclosed indoor track cycling facility, with connecting facilities for BMX, road and mountain biking. The Avantidrome will also be the new headquarters of BikeNZ, a not-for-profit organisation that helps to develop high performance athletes and fosters cycling at a grassroots level.
As a world-class facility, high-quality lighting is critical as track cyclists rely on it for safety and speed – the illumination must not create shadows on the track that can cause dangerous distractions. For a venue such as this that will host national and international events, the highest standards of lighting quality and uniformity must also be met to enable high definition TV coverage and photography that is as good by night as by day.
In addition, given that the facility is expected to be well-utilised and is run by a not-for-profit organisation, the lighting solution needed to be one that is energy efficient to minimise operating costs.
Avantidrome developer, Home of Cycyling Charitable Trust, knew powerful floodlights were needed for the racing track, but was also interested in incorporating LED lighting solutions in other areas, so turned to Philips Lighting for a tailored solution.
Philips selected and managed the installation of its latest generation specialised ArenaVision floodlights, an integrated system that brings together all relevant technologies from lamp to gear to floodlight, so that everything works in synergy. The system features 1000W axial lamps providing more light output, which are controlled by an optical system to give greater efficiency. Consequently, fewer luminaires are required, delivering savings on capital, energy and maintenance.
Philips Lighting project manager Geoff Lewthwaite says, "The design and configuration of the installed lighting system allows for the floodlights to operate under four different settings, depending on the function of the course from training through to televised racing. This flexibility in the arena means the lighting can meet the appropriate requirements without compromise to the quality and uniformity, and without any superfluous energy lost."
For the rest of the Avantidrome complex, Philips provided a complete LED solution that is designed toprovide precision lighting where it is required and ambient lighting of the wider public spaces within the facility, as well as deliver significant energy savings and reduce maintenance requirements.This includes:
GreenPerform LED Highbays used in spectator areas, which are designed specifically to provide high-quality lighting in large interior spaces. GreenPerform luminaires turn on instantly, compared with the slower power-up of high-intensity discharge lamps.

For commercial and hospitality areas, Philips specified the high-output CoreLine LED range. These come in recessed or surface-mounted options and have a lifespan of up to 50,000 hours. The café lighting used Philips StylID which incorporates the latest in design, LED technologyand optical systems, giving a high quality accent light.

Philips Greenspace LED Downlights were used in areas such as corridors, stairwells and bathrooms, which feature a diffused cover that enhances the light's uniformity and reduces glare. Compared to CFL downlights, Philips' Greenspace LEDs can provide energy savings of up to 60% (or more when used with smart controls), delivering significant cost savings over their 30,000-hour lifetime.

Philips SmartPanel luminaires were used for open plan office spaces and meeting rooms. As well as providing uniform, low glare light, these panels have a slim profile, so don't add bulk to the ceiling.

Philips Powerbalance LED luminaires were used for athletes' lounges and resting areas. Providing a softer, more comfortable lighting option, the Powerbalance LED luminaire uses up to 45% less energy than a traditional luminaire. Like all LEDs it also has a significantly longer life – up to 50,000 hours which, at 11 hours burning time a day, equates to up to 12 years in office environments, compared to 15,000 hours for a traditional luminaire – meaning lower ongoing maintenance costs. The Powerbalance LED also delivers higher quality lighting, with glare control and good colour rendering, and is dimmable, so the lighting levels can be controlled and adjusted.
Philips also provided a Philips Dynalite intelligent lighting control system. These smart networked controls can be set to switch lights on when motion is detected, dim or increase lighting based on the levels of natural light available, and use timers that can be set to turn off the lights when they are not in use. Philips and Feisst Electrical Ltd are also providing and installing a Cylon building management system, which enables energy consumption in the complex to be monitored and managed in real time via an internet-enabled device. These systems help deliver additional energy efficiency gains over and above the superior energy efficiency of LED lighting (compared to conventional lighting) on its own.
The Home of Cycling Charitable Trust can now look forward to maximum energy savings while also providing a world-class cycling venue for high performance athletes.
"It's been fantastic to have Philips Lighting deliver a highly tailored lighting solution that takes into account both the needs of our cyclists and our wider need to be energy efficient and reduce operating costs," says Geoff Balme, chief executive of The Home of Cycling Charitable Trust.
"We now have a first-rate velodrome in Cambridge with energy-efficient lighting reducing our overhead costs, without having to compromise on high-quality lighting."

Manufacturers and suppliers of innovative electronic products.
Learn more