Bathrooms – The blue sky option?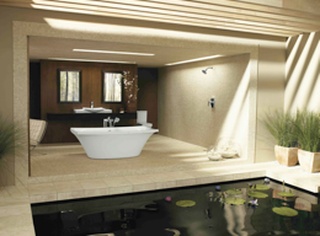 Bringing the outdoors in is a rising trend in bathroom design – be it a large window framing lush green foliage, a glass door or louvres opening to the garden or – as in the picture – a bathroom opening completely to a pond, courtyard or patio. The last one, admittedly, is the dream option!
Key to achieving the look, irrespective of the size of the view, is to keep the interior of the bathroom uncluttered. Smaller bathrooms in particular will benefit from 'visual trickery' whereby wall-hung fixtures, such as vanities and toilets, create the illusion of more space and 'dead space' (such as a tight corner) is used for storage, keeping toiletries and 'clutter' out of sight.
For those with space, a freestanding sculptural bath is a must-have and Kohler's Escale brings just the right shape and proportions to the mix. It is available as either a conventional bath or with BubbleMassage technology whereby thousands of bubbles filled with warm air are released from concealed air jets to massage and support the entire body.
For those with limited space Kohler has a number of conventional built-in baths offering the same BubbleMassage technology.
To perfectly complement the shape of the Escale bath Kohler has released the Escale 1010mm bench top basin with integrated counterspace – this sits atop the vanity of choice and can be teamed with a sculptural mixer tap such as the four star WELS rated Symbol. To complete the Escale look there is a four star WELS rated back to wall toilet suite. For those looking to enhance the feeling of space, choose the wall hung version with concealed cistern.
Showers can be open-plan, as in the picture, or defined by a shower screen or free standing wall. Practically speaking though, the open-plan mode is really only viable in a larger scale room – but whatever the space, choose a multifunction shower that can pamper tired bodies and aching muscles with a strong massage spray or a refreshing, restorative deluge of water. Kohler's Flipside, with its four spray functions at a flip of the head, is the easy answer.
Kohler bathroom products are retailed through leading bathroom showrooms nationally.
Visit www.kohler.com.au for full retail details.

Since 1873, Kohler has been leading the way with design and innovation for bathrooms and kitchens.
Learn more
Head Office
Kohler
133 Diana Drive
Glenfield, Auckland
Phone: 09 980 6...
Regional Office/Distributor
Kohler Design Centre
Level 3, 65-73 Parnell Rise
Auckland
Phone: 09 336 1...