Breezway Louvre Window Handle Positions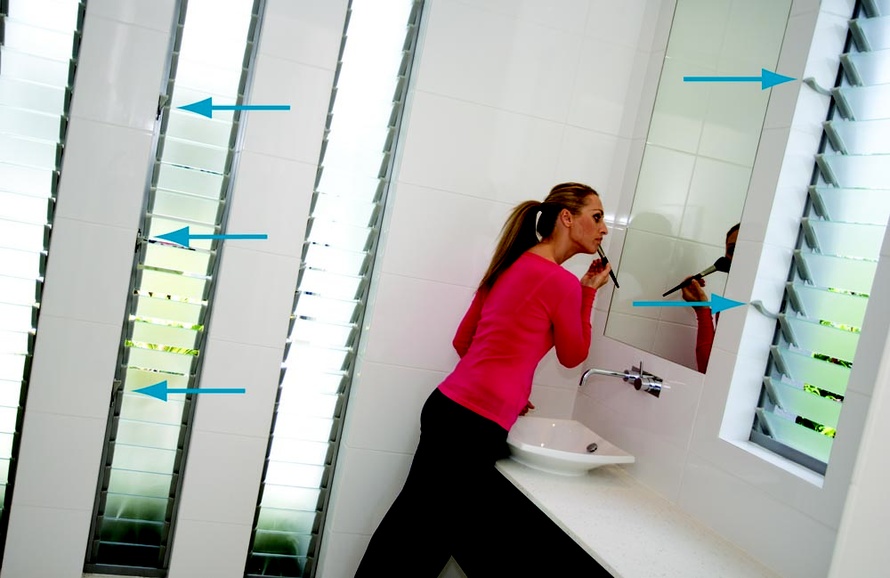 Breezway offers an endless variety of customising choices to meet the varying needs of our customers. Not all customers make use of these customising choices though, partly because of the time and thought put into deciding the standard configurations.
Standard handle positions
Unless otherwise specified, Breezway handles are positioned to the left of the glass (viewed from inside) so they are easy to operate using the right hand. Additionally, based on the height of the window, we make some assumptions about the height at which the window will be installed and then position the handles to be within easy reach. There are three handle customising choices to consider when ordering your louvre windows. These include:
Handles on each Altair Louvre Window bay can be positioned to either the left or the right of the glass.
Handle positions can be adjusted vertically.
Additional handles can be added.
Customised handle positions – factors to consider
Left-handedness – position handles to the right for ease of use.
Group handles together – quicker and easier to operate when in close proximity to each other.
Avoid obstructions – adjust the verticle position of a handle so it is reachable.
Windows to corners – avoid positioning handles side-by-side in corners.
Windows besides doors – position away from hinged side of a door.
Windows over counters – position the handle as low as possible so its easily accessible.
No handles – Altair Powerlouvre Windows are the most convenient option and can be controlled remotely by your smartphone or set to operate automatically in response to timers or in-built temperature sensor.
Breezway has been designing and manufacturing louvre windows since the 1950's.
Learn more