Canon applauds photographic winners at Qantas Media Awards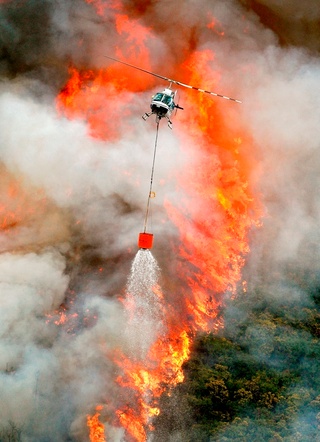 Photographer Derek Flynn from The Marlborough Express in Blenheim took top honours in the Canon Photography Award section of the Qantas Media Awards held recently in Auckland. Derek's portfolio of six pictures, shot on a Canon EOS 1D Mk II N earned him the title of Best Senior Photographer.
Derek's winning portfolio featured a stunning range of news, sport and lifestyle photographs. The photographs included an amazing shot of a chopper battling the bush fire in Waikawa Bay, a proud kiwi moment as the amphibious 'van boat' crossed the Cook Straight and a shot of Mahe Drysdale training on the Wairau River.
Blair Ensor also from The Marlborough Express was named Best Junior Photographer for his portfolio of six photographs also shot on Canon equipment.
The photographs show Blair's affinity with rural New Zealand, from a Kiwi classic at the stock yards to a young mother juggling life on the farm with raising children. Blair's pick of the six is a superb image of the 'van boat' making its way slowly but surely through the dark blue waters of the Cook Straight flanked by a dolphin.
Kim Conner, General Manager - Consumer Activities, Canon New Zealand said Canon was delighted to once again support and honour New Zealand's talented media photographers through these awards.
"Canon has a proud photographic heritage and this year holds special significance as we celebrate the production of the 40 millionth Canon EOS SLR - the choice of many photojournalists. We are delighted to be able to pay tribute to the photographic excellence of the New Zealand media."
2 Other winners included David Hallett of The Press who was awarded Best Single Picture for his photograph Godwits, while Best Single Breaking News Picture went to Mark Taylor of The Waikato Times for Funeral. Phil Walter of Getty Images won Best Sports Picture for his image Yachting and Amos Chapple of The Aucklander was awarded Best Lifestyle Picture for Deer Hunter.
Blair Ensor took away a further award for the evening in the junior category: Best Lifestyle Picture for Mother Mustering. Best Single Breaking News Picture went to Natasha Martin of The Timaru Herald for Man & Dog Await Rescue and Chris Hillock from The Taranaki Daily News won Best Single Picture for Cat in Fire Ruins. Best Sports Picture was awarded to Christine Cornege from The New Zealand Herald for her image Mountain Biker Crash.
Provides imaging solutions for commercial and residential markets.
Learn more