Canon celebrates production of 40 millionth EOS-series SLR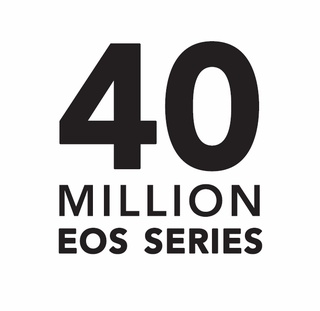 Canon New Zealand is celebrating the achievement of a new camera-manufacturing milestone as combined production of the company's EOS-series film and digital single-lens reflex (SLR) cameras passed the 40-million mark.
"Canon has a long and proud history of producing SLR cameras that set the technology benchmark and constantly evolve to satisfy the needs of users at all levels," says Rochelle Mora, Brand Manager – Imaging, Canon New Zealand.
"High speed, ease of use and outstanding image quality are the characteristics that continue to make Canon EOS the choice of pros and amateurs alike. Together with our great retail partnerships, these are the reason Canon New Zealand continues to lead the market as the dominant player with a strong number one share in digital SLR1."
Production of the EOS SLR camera began in 1987 at Canon Inc.'s Fukushima Plant. In 1997, on the 10th anniversary of the series, production reached 10 million units, and in 2003 passed the 20-million mark. After the rapid spread of digital SLR cameras globally, Canon went on to reach the 30-million mark during the series' 20-year anniversary in December 2007. This month, Canon celebrates the 40-millionth-unit production milestone, just two years and four months later. And at the same time, the EOS Digital series celebrates a significant production milestone of 20 million units.
"In New Zealand we're forecasting growth to continue on the back of a creative revolution that sees consumers actively developing their skills and upgrading to more advanced technology that offers greater potential and the highest quality," says Mora. "Research shows that quality is a priority as it allows greater potential in terms of print options as well as displaying on flat panel TVs. FULL HD movie capture is a feature also attracting consumers wanting to maximize the potential of their HD TVs."
The EOS series, which means "Electro Optical System" and also carries the name of the Greek goddess of the dawn, was first introduced in March 1987 as a new generation of AF SLR cameras that incorporated the world's first electronic mount system, achieving complete electronic control not only between the lens and body but throughout the entire camera system.
With the key concepts of high speed and ease-of-use, the EOS-series cameras, including the topof-the-line EOS-1 professional model, which was first introduced in 1989, and the compact, lightweight EOS 500, which was released in 1993 and helped to expand Canon's user base, actively incorporated innovative technologies and gained acceptance from a wide range of users. Following the introduction of the EOS D30 in 2000, a time when the spread of digital SLR cameras was in full swing, Canon developed such advanced technologies as its proprietary CMOS sensors and the high-performance DIGIC digital image processor, as well as an extensive line-up of EF lenses in an effort to fulfil the company's new key concepts of high speed, ease-of-use, and high image quality.
Canon further expanded its rich product line-up with the release of the entry-level EOS 550D digital SLR camera in February of this year, which features an proximately 18.0-million pixel CMOS sensor and supports an extended ISO range.
Canon is grateful for all of the support from its customers who have made this production milestone possible, and will continue to produce innovative and attractive products that deliver all round customer satisfaction while further endeavouring to create an enjoyable digital photo culture.
Provides imaging solutions for commercial and residential markets.
Learn more