Case Study: Sydney Road, Coburg VIC – Part 2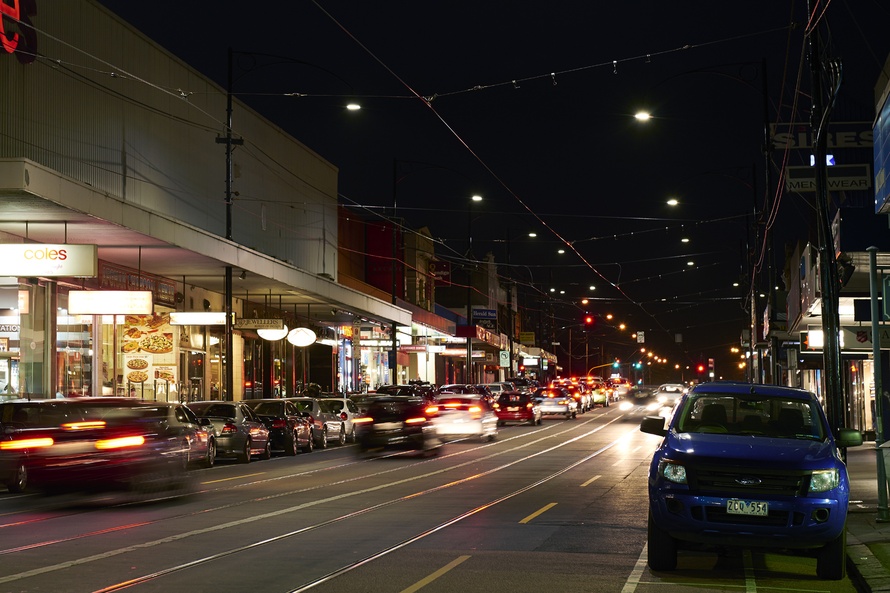 Rising to the challenge
Public lighting installations in Australia traditionally involve many stakeholders. In the case of the Sydney Road (Coburg) project, in addition to luminaire and lighting standard compliance, the installation had to satisfy specific requirements of multiple parties including energy distributor Jemena and the VicRoads and VicTrack transport authorities, on whose poles the luminaires were to be installed. The conflicting interests between the project stakeholders were not easy to overcome and caused project delays, but fortunately they didn't prevent the project from going ahead.

"To overcome such complexity of project interests during the approval process for a new luminaire, especially with a new LED light source, is virtually impossible," according to Ms. Leonardi, adding that this is one of the main reasons why LED technology is still very unusual in public Category 'V' applications.

Another challenge in lighting this shopping area was that the pole heights and locations were fixed. A blended solution, using multiple lenses and orientations, was required. In addition, the drive current needed to be optimised to provide a 'V3' solution with these fixed parameters while encompassing the maximum possible energy savings in the transition to LED.

"In-house lighting simulations were run to check the lighting performance, before the fittings were sent for independent photometric testing," Ms. Leonardi noted. This was requested by the project stakeholders in order to confirm code compliance.

The location of the project is a two-way traffic street, with parking bays on both sides and tramlines in the middle of the road. For such a relatively wide area, and to be able to use the existing pole locations, WE-EF Lighting proposed a so-called 'hybrid' solution of nine [R65] rectangular lenses and six [A60] 'forward throw' lenses – a variation on the ASP530 post top luminaire – to achieve the distribution pattern suitable for the project requirements.

To achieve the minimum and average lighting parameters, the 45 XM-L LED chips were operated at 800mA, with maximum LED junction temperature [Tj] of 85oC, achieving the system wattage of 118 W per fitting – around 25 per cent more energy-efficient than the original 150 W high-pressure sodium luminaire. Independent thermal testing was also carried out to ensure the performance quality and long service life of the luminaires.

While the ASP500 series luminaires are well-suited to inner-city plazas and streets, the Sydney Road project required modifications due to the specific lighting requirements, traffic regulations and maintenance practices.

First, the luminaire had to accommodate a photocell, required for unmetered-supply installations by energy distributors. "This modification was not a big issue, as WE-EF had already developed a photocell for the ASP530 luminaires. However, for this project, the photocell had to protrude out of the luminaire housing a further 20 mm, which was required by the power utility Jemena for easier gripping of the photocell during maintenance," Ms. Leonardi explained.

Jemena's linesmen wear two pairs of gloves for safety reasons; therefore, without the 20-mm extension it would be difficult to grip the photocell to remove it. The luminaire standard AS/NZ 60518.1 does not require vibration testing for pendant-style architectural luminaires like the ASP500 series. Again, however, on this project the luminaire had to be tested for its resistance to vibration fatigue, as it was to be installed above tramlines and a high-volume traffic road. After all the modifications, trials and tests, 30 ASP530 LED luminaires were successfully installed in October 2014.

Added benefits
A great deal of the urban lighting network in Australia is controlled by various privately-owned (or privatised) utility companies, which deliver electricity and gas. Mostly for historic reasons, these utilities own the street lighting system and have the most control over product decisions. "The approval of this product by Jemena opens doors for further projects where an approval by energy utility companies is essential," said Ms. Leonardi, "It has created a market precedent for architectural/decorative luminaires".

Possible applications of this particular product in the future would be suburban and country town shopping strips where top entry lanterns have been fitted. Even though achieving approval for the use of this product was a lengthy process, WE-EF is now exploring opportunities for its wider deployment.

"Having navigated the design, testing and approval process with this project, we are looking forward to bringing quality LED solutions into more Category 'V' lighting applications," Ms. Leonardi said. "Their greater energy efficiency and performance compared to existing products bring benefits to utility companies, local authorities and ultimately those using the streets on which they operate".



Luminaires that provide effective and innovative solutions for architectural lighting challenges.
Learn more