Casio to release mercury-free projector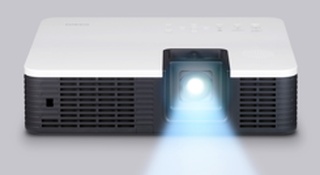 With 4,000 ANSI Lumens Brightness. Support for wireless presentations using smartphones.
New Zealand, November-2011 — Casio Computer Co., Ltd., announced that it will release a new data projector, the XJ-H1750, in December. Equipped with Casio's own Laser & LED Hybrid Light Source, the XJ-H1750 projector delivers remarkable high-brightness projection of 4,000 ANSI lumens.
Casio released the first projector equipped with its Laser & LED Hybrid Light Source in the second quarter of 2010. The projector delivered 2,500 ANSI lumens using a mercury-free light source, achieving a level of brightness previously considered unattainable without a mercury lamp. Further development led to the introduction of second generation mercury-free projectors with 3,500 ANSI lumens output in the summer of 2011. These have since gone on to earn a strong reputation as the next wave of mercury-free data projectors.
The new XJ-H1750 projector boasts the same outstanding features of the Laser & LED Hybrid Light Source as found in previous models. These features include a light source life of about 20,000 hours, which reduces maintenance and cutting operating costs,while achieving projection at maximum brightness as quickly as five seconds from startup. At the same time, the brightness has been improved to an astonishing 4,000 ANSI lumens through further refinement of the light source and cooling performance.
Laser & LED Hybrid Light Source The XJ-H1750 projector achieves high brightness projection of 4,000 ANSI lumens using a mercury-free light source, by projecting three colors through a DLP® chip: red emitted by a high-lumen red LED, green converted from blue laser light with a phosphor, and blue emitted by a high-lumen blue LED.
Give presentations using a smartphone or USB memory With the XJ-H1750, users can give wireless presentations using a smartphone1 or computer that supports wireless LAN (IEEE 802.11 b/g), or project data2 from a USB memory device. *1. Smartphone or other mobile device must be installed witih MobiShow® software for AndroidTM, Apple iOS or Windows Mobile®. *2. Certain types of data may need to be converted using the bundled computer software, before saving to a USB memory device.
Energy-saving Intelligent Brightness Control Integrated light sensors automatically adjust the projection brightness level according to the ambient lighting. This reduces power consumption by as much as 62%.*3 *3. Reduction compared with power consumption for Eco Mode Level 5 (130 W), using power consumption for Bright Mode (350 W) as a baseline reference.
DLP® 3D projection Ready The XJ-H1750 can project 3D images, viewable using 3D Glasses for Casio Projectors (sold separately). Casio 3D Converter software (sold separately) can be used to convert 2D images into 3D images.
Interactive Pointing Function By using Casio's Interactive Pointer (sold separately), a connected PC can be operated by pointing at the projection screen. It is also possible to write on the screen with this function when used in conjunction with Presentation Draw software, which comes bundled with the Interactive Pointer.
Casio will also release the XJ-H1700 projector at 4,000 ANSI lumens output. This model does not include USB port or wireless functionality.
For more info www.monacocorp.co.nz

Electronics, construction and lighting distributor.
Learn more
Monaco Corporation products