Corporate Real Estate's hottest topics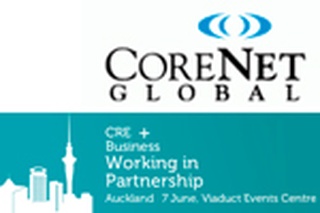 The CoreNet Symposium is the corporate property industry's event of the year with a star line-up of international speakers from the UK, Australia, France and China:
• Oliver Marlow & Dermot Egan, from Tilt, U.K. talk about the phenomenon of co-working and how it is benefiting companies working together in shared spaces.
• Monica Klyscz,is National Australia Bank's Head of Commercial Property. Responsible for 350,000 square metres of office space, she is working on two exciting property and workplace programs that will transform the way NAB's employees across Australia work.
• Dr Marie Puybaraud, Director of Global WorkPlace Innovation for Johnson Controls, France, presents on leading research trends in workplace innovation.
• Frank Rexach talks about his role as Vice President and General Manager of Haworth Asia Pacific, the Middle East, Africa & Latin America. Based in Shanghai, China.
In the afternoon we focus on New Zealand trends. One of the local hot topics right now is the Tainui Group Story. Mike Pohio, Chief Executive Officer, will give an insight into the iwi sector. Plus we look at how the events in Christchurch have triggered a wider industry discussion on disaster and resilience planning, and what is being done by CRE to plan for civil emergencies.
The Symposium explores what is happening globally and how we can translate international best practice into a New Zealand context. CoreNet brings you the best on the theme of Corporate Real Estate and Business - Working in Partnership, reflecting the critical role corporate real estate plays in delivering businesses' strategic goals.
We also have inspirational multiple award-winning comedian Jeremy Elwood, star of '7 Days' television show. Plus trans-Atlantic rower and South Pole adventurer Kevin Biggar talking about what it takes to go from a 30-something couch potato to winning the Trans-Atlantic rowing race and tracing Scott's footsteps to the Pole. Kevin shares insights from his adventures about how to face down huge challenges, energise and unite teams and take performance to the next level.
The Symposium features:
• Keynote speakers from the UK, Australia, France and China
• Future proofing New Zealand; workshops and discussions
• Announcement of the Property People/ CoreNet Corporate Real Estate (CRE) person of the year
• Entertainment by comedian Jeremy Elwood and adventurer Kevin Biggar
• The decision makers who hold the keys to New Zealand's corporate real estate world will be there, offering unsurpassed networking opportunities.
Details:
Wednesday 6 June 2012
Black Tie Cocktail Function
Sponsored by Jones Lang LaSalle
Time: 6pm onwards
Venue: Viaduct Events Centre, Halsey street, Wynyard Quarter, Auckland CBD
Thursday 7 June 2012
CoreNet Annual Symposium 2012
Time: 8.30am to 7.30pm
Venue: Viaduct Events Centre, Halsey street, Wynyard Quarter, Auckland CBD
About CoreNet Global
CoreNet Global is the world's premier association for corporate real estate and related professionals. It has a worldwide membership base of some 8,000 corporate decision makers, service providers and economic developers.
The New Zealand Chapter of CoreNet Global was the fastest growing chapter globally last year and is arguably the most successful. CoreNet members range from large corporate property managers to service providers working in the industry.
The focus is on education and knowledge sharing. Professional and career development is a focus of CoreNet with members completing the Masters in Corporate Real Estate (MCR) through the organisation and its knowledge centre.
CoreNet holds regular learning, site visit and social events in both Auckland and Wellington.
For more information on CoreNet Global and the Symposium, go to www.corenetglobal.org.nz
Media spokesperson for the 2012 Symposium:
Carey Oldfield
CoreNet NZ Chapter Leader
Phone: +64 09 525 4644
Mobile: 0274 965 255
Email: carey.oldfield@ugllimited.com