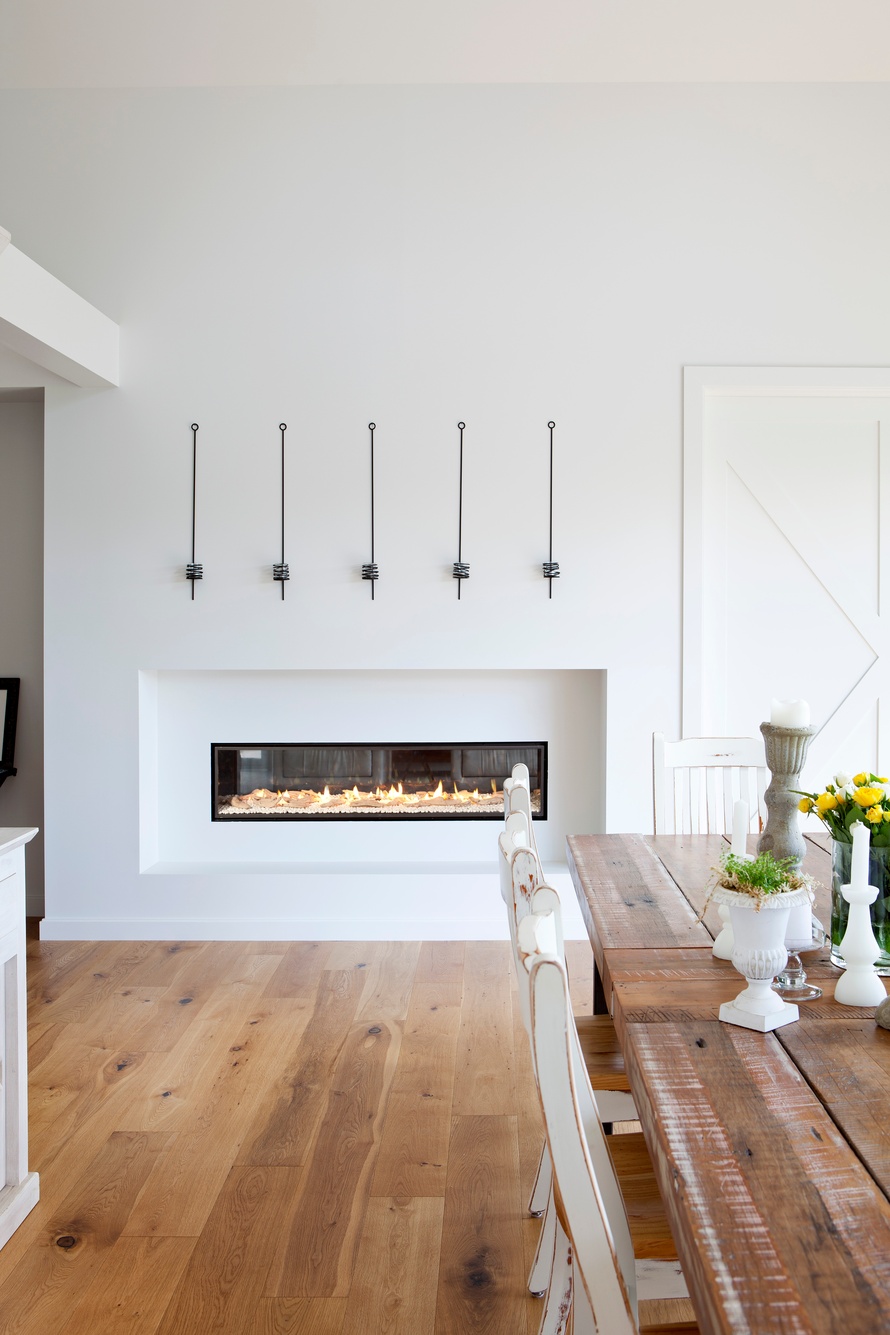 This striking country home is minimal in structure and rich in texture yet still provides a cosy family dwelling. From the multiple courtyards and the see-through gas fireplace to the plush off-white couches, this is a house with a firm commitment to style, luxury and comfort.
Located on grassy fields, this Graham Savell designed family home is a perfectly executed combination of contrasts. The barn-style exterior is a witty nod to its rural setting, with a coat of contemporary edge in the form of striking Resene Pitch Black. The high-ceilinged, airy interior combines minimalist white walls with raw wood and warm-toned décor. The overall effect: a home that combines the best in sleek modern living with the earthy comfort of natural woods and woven rattan. Or, more succinctly: "modern country."
The open-plan kitchen and living area features a spacious galley kitchen which takes a chic twist with chrome kitchen fittings, all-white kitchen surfaces and a sleek ceramic butler's sink. Venture into the lounge area and the cushioned rattan armchairs, fluffy couches and solid wood coffee table make it clear that this is a living space unwilling to compromise on comfort.
The best example of the home's seamless integration of the natural landscape surrounding it with modern conveniences is the dining room. A distressed solid-wood dining table is paired with the modern double sided see-through gas fireplace to highlight the rustic-modern design theme. The home owners have chosen a natural-looking White Crystalight and driftwood fuel bed to tie these components together nicely. Further integrating the spacious feel, the area opens out onto a grassy terrace.
The frameless Escea gas fireplace is the perfect complement to the home's modern-yet-rustic styling. The minimal exterior styling incorporates seamlessly into the wall, while the flames add an earthy, rustic element. The juxtaposition of wooden and metallic textures that characterises the home is echoed within the fire's White Crystalight fuel bed with driftwood. Like the house itself, the fire is quite literally warm yet sleek. The negative detail gives a unique point of interest but is still simplistic enough to not overpower the wall. The DX1500 fireplace is a ducted gas fireplace which circulates warm air throughout the home to multiple rooms, making it the ultimate beautiful yet functional heating solution.