Demolition the theme for Toi Poneke exhibition
It's a tale of a healthy obsession with buildings and their make up, documentary photography, 'green' buildings, birth and renewal and Japanese Shinto temples. Two architecture lovers are next in line to exhibit at Toi Poneke Gallery in Wellington from Friday 5 March with Built Fabric.
Though their disciplines differ – Tane Moleta being a designer and Mizuho Nishioka being a photographer – both artists discovered that they are working on theses with a similar theme, and decided to exhibit their work together.
"We're both working on themes that deal with buildings' demolition," says Tane. "Mizuho has taken a series of photos at the construction site of the new 'green' building on Willis Street, and I'm working on a series of architectural drawings that explore the evolving nature of Shinto temples in Japan."
Shinto temples – some that date back three or four thousand years – are dismantled and put back together roughly every 20 years. The vast majority of materials are reused, but more are added. "This 'newness' is seen in a very positive light in this particular area of Japanese culture, a ritual that dates back thousands of years due to rice harvests. It's quite different to how Westerners generally think about the demolition or dismantling of old buildings," says Tane.
The new 'green' Telecom building under construction at Willis Street, however, has a similar ethos behind it. Mizuho says when she was photographing the construction and bones of the new building, she found that every last bit of waste, such as glass, stone or sand, is carefully weighed, labeled and put into an inventory. The materials are then either reused on site or shipped off to another construction site.
"So I took images of these fragments," says Mizuho. "People will see images of these next to images of the area that they were taken from."
Mizuho particularly wanted to document a construction site as they are traditionally hidden from the public domain. "Why is it that we don't seem to care about what happens between the moment of demolition and the unveiling of a new building? Being quite a fan of buildings and architecture, I would rather see the process of change as I am walking around an urban space. Most people may not be concerned with change – this is part of what the exhibition is about."
Both Mizuho and Tane are about to finish their masters degrees. Mizuho will complete a Masters in Fine Arts at Massey University, and Tane will complete a Masters in Architecture at Victoria University.
Built Fabric opens at 5.30pm on Thursday 4 March at Toi Poneke Gallery, 61 Abel Smith Street – just up the road from Real Groovy.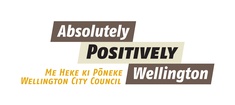 Helps achieve economic growth and an improved quality of life for Wellingtonians.
Learn more