Designer Rugs inaugural Evolve Awards for design professionals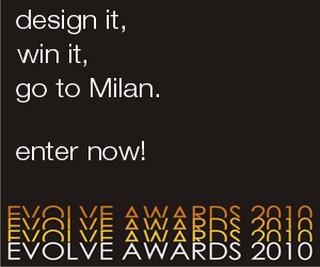 Designer Rugs are proud to announce the inaugural EVOLVE AWARDS – the six winning rugs will form part of Designer Rugs ID COLLECTION 2010 / 2011, with winners sharing more than $20,000 in prizes - including a Trip to Milan's Salone de Mobile 2011!
To be eligible entrants must be an Australian or New Zealand architect, interior designer or interior design industry professional – including those working full time as an interior stylist, product designer, or textile designer or working in the interior design sector, such as colour consultants.
EVOLVE will continue as an annual fixture on the design calendar. The selected six rugs, each limited to an edition of 30, will join Designer Rugs ID COLLECTION, on sale from October 2010.
Designer Rugs is acknowledged as the Australasian company for handmade, custom-made rugs and carpets. Working closely with Australia's top designers, architects and artists for over 23 years, as well as collaborating with leading creative's including Akira Isogawa, Dinosaur Designs, Catherine Martin and indigenous artist Minnie Pwerle. Designer Rugs remains at the forefront of floor surface design.
From August 2010; designs by the Top 25 finalists can be viewed online, Open to the public, the PEOPLE'S CHOICE AWARD can be voted at www.designerrugs.com.au. One lucky person who votes for the design that receives the most on-line nominations will, along with the designer of the most nominated rug – receive prizes to the value of $1,000. EVOLVE WORKSHOP/ All you need to know about custom rug design!
Exclusive to New Zealand, Designer Rugs will host a free industry workshop with special guest fashion icon Akira Isogawa.
Hand-made contemporary rug and carpet design entails much more than transposing a two dimensional graphic onto the designated carpet surface!
Exploring the design and construction process of custom rug and carpet construction, the EVOLVE Workshops will be held in most capital cities, aimed to equip design professionals with technical knowledge and provide advanced specification details to facilitate the design process.
This one night only event will be held on 13th May, 2010, 6pm. Spaces are limited and can be reserved by calling 09 300 6116 or evolve@designerrugs.co.nz.
EVOLVE AWARD JUDGES Sibella Court Society Inc. retailer, interior stylist, author, colour consultant Shareen Joel interior architect / industrial designer Matthew Sheargold interior designer / product designer Stephen Ormandy Director- Dinosaur Designer and artist Yosi Tal Managing Director, Designer Rugs Eli Tal Chairman, Designer Rugs Anne-Maree Sargeant will manage the judging process, and host the workshops in conjunction with Designer Rugs. KEY DATES Competition timeline: Entries open January 2010 Entries close June 30th 2010 Top 25 finalists announced: www.designerrugs.co.nz August 2010 EVOLVE People's Choice www.designerrugs.co.nz August-October 2010 EVOLVE AWARDS Winners announced at EVOLVE Awards October 21st 2010 ID COLLECTION on display / people's choice October 22nd 2010

Suppliers of hand-knotted and hand-tufted rugs.
Learn more