Discover the slimline and heat efficient Escea AF90 gas fire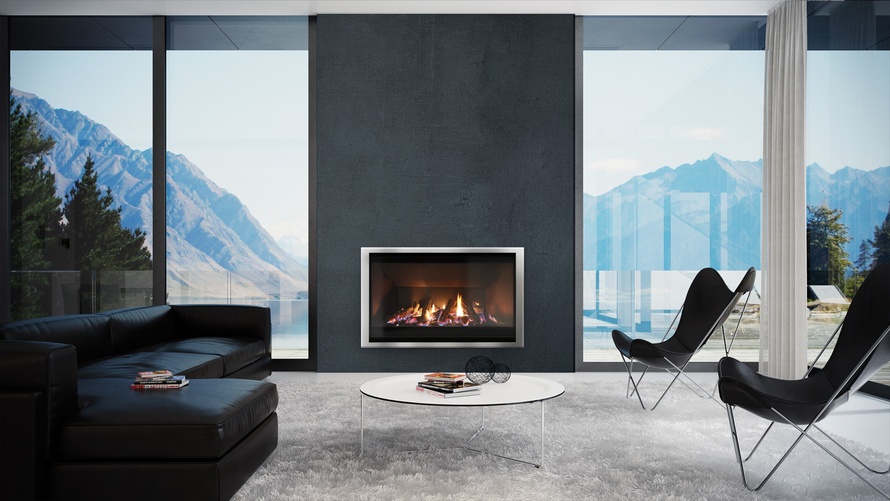 With the creation of the AF700, Escea entered into a market category with an energy-efficient gas fireplace that offers two times more visible flame and the slimmest fascia currently available. Yet, they knew they could extend on this model and make an even more powerful fireplace.
The AF700 fireplace was a clear winner for both new builds and renovation projects. The engineering team referenced design principles that allowed them to achieve the large glass area, but also created a fireplace which could be retrofitted into an existing brick chimney. The angled sides accommodate for tight spaces commonly associated with existing chimney fireplaces, and the AF700 can seamlessly fit inside the majority of cavities.
Escea used the integral design principles of the AF700 then increased the size, the heat output and the efficiency to create a bigger and more powerful gas fireplace. Then the AF960 gas fireplace, a beautiful slimline gas fire which burns like a beast, was born. It uses a closed combustion system meaning it will heat the user and not the flue. The Direct Vent flue in combination with the glass front creates a closed combustion system. It only uses outside air for combustion and carries the exhaust air away without any exchange with the room air. By utilising this innovative gas fire technology, the AF960 has significantly heightened heat output and energy efficiency — burning cleaner and retaining more heat within a room. This ultimately creates a more efficient, warmer and healthier heating solution.
The AF960 is also Smart Heat enabled so you can control your fireplace from anywhere, anytime via our Escea smartphone app. You can create the ultimate look to fit in your decor with the three fuel bed options: Logs, Coals and River Rocks and then complete the appearance with either a Volcanic Black, Titanium Silver or Stainless Steel Fascia.
Find more at here.