Disney range now available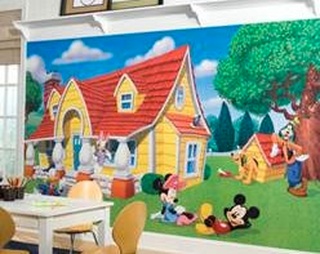 Disney range of wallpaper, borders and stickers now available through leading wallpaper stockist.
Pacific Wallcoverings, Australasia's leading supplier of wallpaper, has been awarded the Disney licence for Wallpaper into the New Zealand market.
Bringing together the premier supplier of wallcoverings in the NZ market with the globe's largest licensor of consumer products means that New Zealanders can bring the magic that is Disney into their homes like never before.
Launched in a beautifully presented pattern book with well-loved Disney characters such as Cinderella, Lightning McQueen, Rapunzel and Buzz Lightyear this range will bring delight and inspire children's imagination. Classics like Mickey Mouse and Winnie the Pooh will stimulate children's senses and deliver smiles to young faces. Wallpaper, murals and sensational peel & stick wall decals allow for creative use in a variety of spaces - Disney, for the young, and young at heart.
Sales and Marketing Manager Piers Braddock says "We are excited to bring this fabulous range to New Zealand's homes. The special place that Disney has in everyone's hearts can now be extended into your child's room."
The wallpaper will be available throughout New Zealand from leading wallpaper retailers such as Resene, Guthrie Bowron, Colourplus and Decorator Services Group stores.
For more details, please contact Piers Braddock at piersb@visionwalls.co.nz or 027 2222 974