Earlybird registrations closing for the CoreNet 2013 Symposium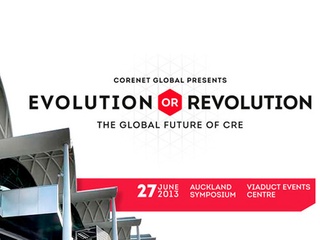 The CoreNet Symposium is the corporate property industry's event of the year with an exciting line-up of international speakers. Earlybird registrations close next week - Friday 31 May.
Book your spot now; you won't want to miss:
Frank Duffy, CBE, London. British architect, a founder of DEGW, the international architectural and design practice best known for office design and workplace strategy and, more recently for advanced thinking on the programming of educational and arts facilities. Duffy is particularly noted for his work on the future of the office and the flexible use of space.

Christian Hurzeler, Real Estate Project Executive at Google, based in Ireland. Hurzeler joined Google in 2010 and is responsible for the delivery of projects in Google's EMEA portfolio (Europe, Middle East and Africa).

Mark Strom is our highly anticipated closing speaker. Presenting on how good leaders become great leaders and how to lead with wisdom. In the afternoon we focus on New Zealand developments. We have updates on:

the Christchurch property market;
government accommodation workplace update;
Z's Petroleum and Sustainability presentation; followed by
the Nuts and Bolts of NABERZNZ (National Australian Built Environment Rating System).
The Symposium explores what is happening globally and how we can translate international best practice into a New Zealand context.
CoreNet brings you preeminent speakers on the theme of Corporate Real Estate and Business - Evolution or Revolution The Global Future of CRE.
The Symposium features:
Leading keynote speakers from the UK and Australia
New Zealand focused workshops and discussions on topics we need to be up-to-date on
Announcement of the Property People/ CoreNet Corporate Real Estate (CRE) person of the year
The decision makers who hold the keys to New Zealand's corporate real estate world will be there, offering unsurpassed networking opportunities.
WEDNESDAY 26 JUNE 2013 PRE-SYMPOSIUM SOIREE
Time: 6pm onwards Venue: Viaduct Events Centre, Halsey street, Wynyard Quarter, Auckland CBD
THURSDAY 27 JUNE 2013 PRE-SYMPOSIUM SOIREE
Time: 8.30am to 7.30pm Venue: Viaduct Events Centre, Halsey street, Wynyard Quarter, Auckland CBD REGISTER NOW.
For more information please visit: newzealand.corenetglobal.org