Enhance your outdoor patio with an outdoor fireplace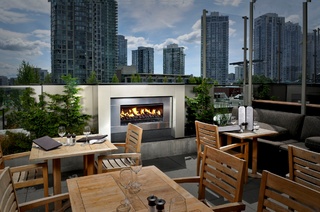 The summer season is fast approaching, signalling sunny days which often lead to long evenings spent outdoors. If you're keen to smarten up your patio or backyard and optimise your outdoor living time, an outdoor fireplace may be the answer.
An outdoor fireplace means you can entertain outdoors late into the night. As well as creating a dramatic focal point, the fire will also help illuminate the area with a soothing glow and keep you cosy until the wee hours of the night.
Adding an outdoor fire is like an extension of the rest of your home, creating a cosy extra room or entertaining space for all-seasons. An outdoor fireplace will allow you to enjoy your evenings all year round.
One product that is both sophisticated and functional is Escea's EW5000 Outdoor Fire. If you have a love of cooking outdoors the EW5000 is a perfect choice. As well as providing a practical heat and allowing you to dine and entertain outdoors, you can cook on the large cook surface just like a normal BBQ. Grilling on the EW5000 gives a lovely smoky flavour. The fire comes complete with a cooking plate and is designed to allow you to move the plate to three different heights to regulate the heat. When the plate is not in use, it fits conveniently under the ash tray out of sight.
With Escea's outdoor fires you have the choice of powering them with gas or wood. With outdoor gas you can have your area heated almost instantly with the push of a button.
If you're planning on making the most of the outdoors this summer, a fire is the perfect addition to your outdoor area.