Fireplace control from anywhere, anytime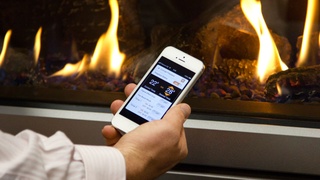 We live in an age when technology is able to answer virtually any whim; from providing a tool for instantaneous connectivity with other human beings to home automation systems that allow us to remotely switching on our fireplaces before we get home from work.
Escea's fireplaces are the first in New Zealand to provide the capability to connect with most home automation systems. The fireplaces come standard with a basic interface and wire connections, which can be installed by a qualified technician. Additionally, comprehensive control over local IP is possible with drivers already developed by a number of control system brands. The supplied Escea remote is still the thermostatic control and the fireplace will operate on the temperature that is set on the remote.
In addition, the DL Series and DX Series fireplaces offer Smart Heat Technology by means of an online web platform or smart phone app. Escea's Smart Heat system is convenient and easy to use - simply access the fireplace controls straight from the Escea app when you are within your home's WIFI network; or alternatively, you can use it to send a command directly to your fireplace anywhere, anytime over the internet.
Escea fireplaces (DL850, DL1100, DX1000 and DX1500) automatically monitor the temperature of the room adjusting accordingly based on the preset temperature. The fireplace automatically modifies the heat output and air fan to ensure no energy wastage, all while staying whisper quiet. Although Escea fireplaces already carry a five star energy rating, the Smart Heat system allows their fireplaces to be even more efficient.
Home automation systems are here to make the homeowner's life easier, the Escea Smart Heat system is here to make heating easier.