FLC100 LED projectors with high-efficiency lens systems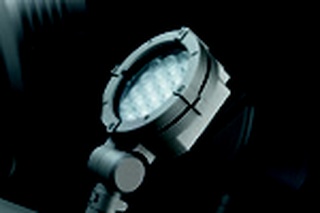 The wide range of projectors from WE-EF represents a mature product family in terms of design and technical lighting aspects, offering the right solution for almost all application areas related to architectural exterior lighting. The FLC100 LED is the latest addition to the range.
The new FLC100 LED projectors are now available with symmetric lens systems for wide, medium, very narrow and very narrow with sharp cut-off beam distributions, to address the many different requirements for the lighting of buildings, facades, monuments, sculptures, etc.
The use of LEDs has added a completely new design to the projector family. One characteristic of all three installation sizes is the slim luminaire housing with integrated heat sinks. With dimensions of 440 mm in height and a depth of only 80 mm, including all mechanical and electrical components, the largest of the new projectors, the FLC141 LED, offers a luminous flux of up to 3570 lumens. It is available in five different colour temperatures (3000 K, 4000 K, red, green and blue). Together with the two smaller models – the FLC131 LED with a luminous flux of up to 2324 lumens, and the FLC121 LED with a luminous flux of up to 1162 lumens – the FLC100 LED projector family offers designers a great amount of planning freedom.
The FLC100 LED projector family meets the requirements of IP66 protection. Proven WE-EF quality concepts, such as a corrosion-resistant aluminium casting, the 5CE corrosion protection system, weather-resistant and durable sealing technology as well as effective thermo-management for the LEDs, ensure a long service life.
The projectors can be operated independently, on outreach arms or on the unique WE-EF RAIL66 system. Optical accessories such as diffuser, spread lens and glare shield expand the spectrum of lighting design possibilities.

Luminaires that provide effective and innovative solutions for architectural lighting challenges.
Learn more