Flowcrete unlocks opportunities under new partnership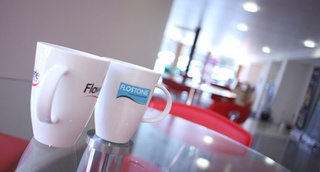 Flowcrete unlocks opportunities in New Zealand under new partnership with Flostone.
Resin flooring specialist Flowcrete Australia has joined forces with New Zealand-based specialist contractor Flostone Flooring, to open up new markets in both the North and South Islands.
Under the deal, Flostone Flooring has become the exclusive partner and applicator of Flowcrete's resin flooring systems, subfloor screeds and car park deck coating materials in New Zealand.
The partnership will strengthen Flowcrete's position in the country, across the commercial and industrial sectors.
Chris Booth, Managing Director of Flostone Flooring Ltd, said: "Flostone Flooring is proud to be exclusive suppliers of Flowcrete seamless flooring resins in New Zealand.
"We believe that the full range of Flowcrete products allow us to resolve all of our customers' flooring requirements across both the North and South Islands."
In their seven years of operation in New Zealand, Flostone has found that more and more customers are looking for flooring solutions that enable rapid installation, offer hardwearing and hygienic properties - and deliver lifecycle cost saving benefits.
Chris Booth added: "From anti-slip to hygienic, anti-static to hardwearing, we have the broadest range of flooring solutions available.
"We can now utilise epoxy, polyurethane and MMA resins to provide a tailored solution that will stand the test of time no matter how tough the environment.
"Our dedicated team has over 30 years of experience and will work all hours to ensure we get the job completed to our clients' time frames."
Recognising the new partnership as a strategic move into the New Zealand market, Sean Tinsley, Managing Director for Flowcrete Australia said, "We are delighted to announce our partnership with Flostone Flooring Ltd and look forward to servicing clientele across New Zealand with the latest in hard flooring technologies."
To announce the new partnership within the New Zealand market, Flowcrete Australia and Flostone Flooring Ltd will be jointly exhibiting at the upcoming BuildNZ trade show in Auckland.
The exhibition, which sees a range of industry professionals from across the construction sector come together over three days, will be taking place at the ASB Showgrounds in Auckland from 23 - 25 June 2013.
Flowcrete Australia and Flostone will be promoting the full range of resin flooring systems and speciality coating solutions for both industrial and commercial applications from Stand 328.

Manufacturer of resin flooring systems and self levelling floor screed treatments for industrial flooring and commercial flooring sectors.
Learn more
Head Office
Flowcrete
Unit 100
193 South Pine Road
Brendale, Queensland, 4500
Phone: +61 7 3205 7...