From hobbits to a tech hotbed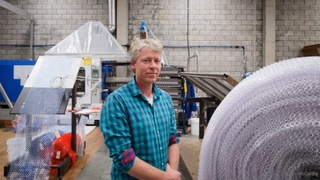 Wellington, the windy capital at the foot of New Zealand's North Island, has been affectionately labelled "Wellywood" for good reason.
Since film-maker Peter Jackson brought his Lord of the Rings trilogy to the city in 1999, production on features such as Avatar and King Kong has become crucial to the local economy, generating $495m in revenue in 2011. Now, as the first instalment of Mr Jackson's Hobbit trilogy tops the box office, industry veterans are taking their ideas from the film set to their own start-ups, drawing on the city's Hollywood connections to create global companies without sacrificing the New Zealand lifestyle.
Sebastian Marino is one such entrepreneur. He says tech start-ups are an attractive exit for people who have spent years working long hours in the film industry, often on short-term contracts.
The former student of applied mathematics and robotics moved to New Zealand from California in 2009 to work on Avatar at Weta Digital, the visual effects company cofounded by Mr Jackson. In 2002 Mr Marino received an Academy Award for inventing software that simulates the motion of cloth, bodies, skin and hair. Now he is taking this technology to the fashion industry, where his company, 77 Pieces, plans to provide virtual fitting rooms for luxury brands. "We can take waist, inseam, height and weight, match it to a database of 20,000 body shapes and say that, statistically, your body is shaped like X," he says. The software simulates how the pattern and fabric will fit and behave on the customer's body, which is placed in a photorealistic environment befitting the brand. In effect, they become the advertisement.
Mr Marino says Wellington's film industry has been a source of engineers and exposure. "It has generated a tremendous amount of talent in terms of people studying computer graphics and gaming. Also, we have a lot of people coming through Wellington and it's raised our profile in America."
The flip side is a small market and lack of commercial talent. "We are in New Zealand because it's a fantastic place to be, but the fashion industry here is very small and we are a boutique provider of some very high-end technology."
Instead, the company will focus on luxury brands in the UK and US. According to research by Kelkoo, the online comparison site, 60 per cent of UK customers order multiple sizes when shopping online, and almost one in three purchases is returned.
Barbara Grieve, chief operating officer of 77 Pieces, says the company set out to be global from day one. Sales and marketing staff will be hired in New York and London. "New Zealand is a low-wage economy, which makes it hard to attract talent for business development." Another founder piggybacking on the success of the film sector is Kayne Horsham, director of Kaynemaile, an architectural materials business that grew out of his role as art director for weapons and armour on Lord of the Rings.
Unhappy with the knitted chain mail used in previous Hollywood productions, Mr Jackson decreed that all actors wear the real thing. But the real thing weighed 65kg. Mr Horsham came up with an alternative of plastic mesh plated with silver. Though fragile and time-consuming to make (by hand), it was lightweight and gave a realistic glint. Mr Jackson opted to use it, though actors had to carry glue and tape for repairs between shots.
After Lord of the Rings, Mr Horsham experimented with the mail as fashion apparel but he was unable to manufacture in bulk, and the weak joins on each ring were a problem. "I realised that if you could mould the mesh, making it stronger, then it would open it up to all sorts of applications," Mr Horsham says.
Using free internet software he modelled a way of injection moulding the plastic directly into a strong, seamless mesh. "Each one of those links takes the weight of a single person," says Mr Horsham, who realised that this strength, combined with its eye-catching reflections, made Kaynemaile better-suited for architectural design and security features.
In 2007, after investment from local angel investors Movac, Kaynemaile automated production at its Wellington factory and made its first sale in Shanghai. It now makes curtains, lightshades, security screens and balustrade panels with the patented mesh. Not forgetting his roots, however, Mr Horsham also supplied chain mail to The Hobbit. But New Zealand accounts for only 15 per cent of business. Customers include ANZ Bank, Hard Rock Cafe and Trump Towers.
New Zealand's remote location is not without challenges. The company has to airfreight its products, and industry support for manufacturers is small. "In the past 15 years engineering companies have moved manufacturing away, which affects support resources for companies like ours," says Mr Horsham.
A few blocks away, Hil Cook juggles work on The Hobbit with a growing mobile app business.
An unlikely tech entrepreneur, Ms Cook studied hair, make-up and film prosthetics in London. She spends her days transforming actress Evangeline Lilly into the Elven warrior Tauriel in the second film of the trilogy but offset, she has created an app for make-up artists and lighting engineers who need to recreate detailed scenes with weeks or months between shots. Continuity lets artists take pictures and record script times, actor names, make-up notes and comments while they work. "When anything is shot out of sequence it's a major deal," Ms Cook explains. "What I used to do was scribble little notes on the call sheet, then when I get back to the trailer it takes an hour to write up my notes and take at least four Polaroids of that person. I thought, 'there must be an app for that', but there was nothing."
Ms Cook took her idea to Grow Wellington, the regional economic development agency, who put her in touch with Creative HQ, a local incubator. She met local developers Matt and Brady Thomas, who programmed the app , and eight months later Continuity was trialled in Wellington. With such an international crew, the app soon spread from Wellington to film sets in the US, and from hair and make-up departments to art and lighting. "The lighting guys used to put sticky notes up their arms and now they're using the iPhone," she says.
Ms Cook adds that the influx of global talent for film productions helps Wellington punch above its weight. "Wellington has the most amazing support network," she says. "People don't mind giving a bit of information or hooking you up with the right person without making you dig deep into your pockets."
Article by By Bede McCarthy.

Suppliers of architectural mesh solutions.
Learn more