Glass reflects current style in bathrooms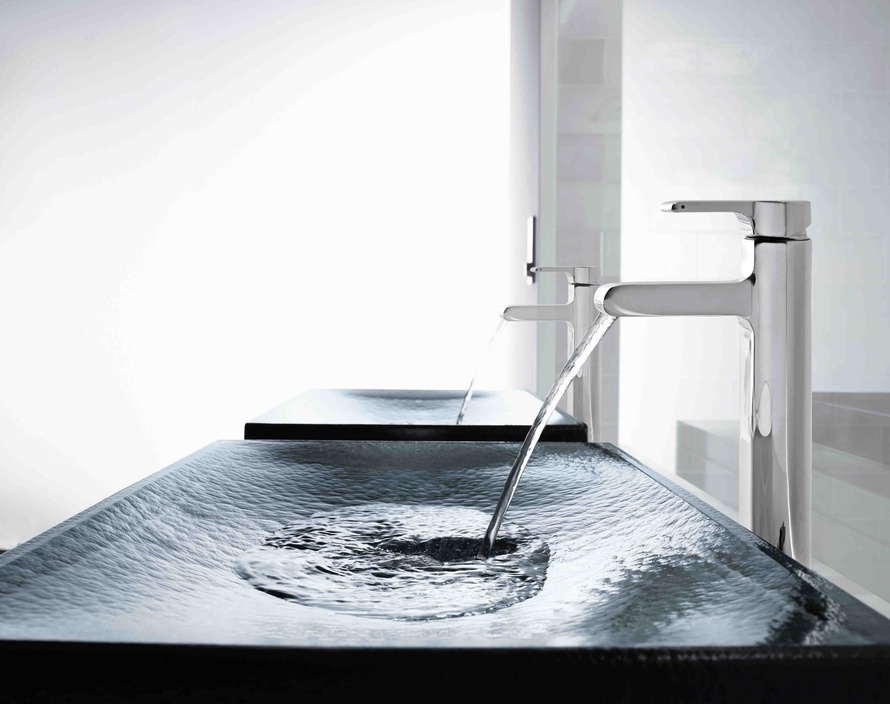 Glass is reflecting the current look in bathroom styling - think large mirrors, glass basins and statement jars and containers. And indoor plants – everything from large tropical foliage to smaller verdant succulents – are making a come back!
Key to the look is marrying the timeless natural beauty of decorative elements in stone, timber and woven natural fibres with the clean, contemporary finishes of translucent glass, ceramic tiles, polished chrome and vitreous china.
Perfect for the look is the Nature's Chemistry collection from Kohler, one of the leading brands in bathroom fixtures and fittings. Made from cast or spun glass these hand basins produce an ever-changing play of light and shadow, ripples and reflection while lending a timeless sense of luxury and indulgence to any bathroom.
One of the most popular designs is the Antilia Wading Pool, a counter-top slab of beautiful cast glass with a subtle rippled texture and concave surface that perfectly mimics the time-worn surface of natural stone under a cascade of water.
Kallos is an undercounter design crafted from spun glass that takes its cue from cut crystal – its many light reflective facets creating a constant play of light and shadow as the water enters the 406mm diameter bowl.
Third in the range – and again quite different – is the countertop, beautifully elegant Lavinia. An organic, funnel shape Lavinia sits atop the bench and creates a mesmerising play of pattern through its slender walls of spun glass once water enters the bowl.
And the final elements for an individual take on your bathroom? Thick, luxurious towels in rich colour or therapeutic neutrals – and candles, lots of candles!
All Kohler bathroom products are available nationally from Mico stores together with the Kohler Design Centre in Parnell, Auckland.
Prices for the Nature's Chemistry range of glass basins are:
Antilia Wading Pool $4679
Kallos $ 979
Lavinia $2599
Singulier tall basin mixer (as shown), 5 star WELS $ 380

For details go to www.kohler.co.nz or www.micobathrooms.co.nz

Since 1873, Kohler has been leading the way with design and innovation for bathrooms and kitchens.
Learn more
Head Office
Kohler
133 Diana Drive
Glenfield, Auckland
Phone: 09 980 6...
Regional Office/Distributor
Kohler Design Centre
Level 3, 65-73 Parnell Rise
Auckland
Phone: 09 336 1...