Green living in the suburbs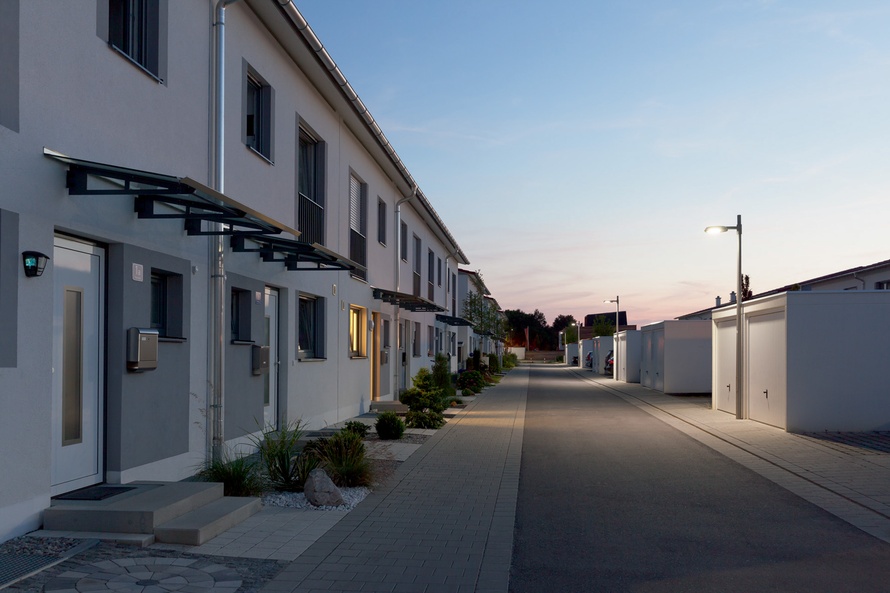 LED light for the Zauberwinkel residential area in Poing.

Poing, in the district of Ebersberg, Bavaria, Germany, wants to be free of fossil fuels and non-renewable energy sources by 2030. With this in mind, the local authority employs a Climate Protection Officer and has initiated a number of projects dedicated to the use of renewable energy sources and energy efficiency. Poing also made a wise decision when choosing streetlighting for its new residential neighbourhood, Zauberwinkel. Their selection of LED luminaires from WE-EF ensures safety and superior illumination even at low-rated outputs.

Poing is a growing community. Since the start of the new millennium, it has welcomed approximately 5,000 new residents. Situated just 20 kilometres from Munich, the area is seen as a popular suburb, as proven by the construction of several new residential neighbourhoods. The most recent of these is Zauberwinkel. Detached and semi-detached houses as well as blocks of flats have been built there on 20 hectares of land, providing homes for 1,400 people.

A well-developed local infrastructure, the availability of outdoor leisure activities and the sense of being close to nature and yet still within easy reach of Munich greatly contribute to the quality of life in Zauberwinkel. However, that's not all; the neighbourhood's planners have also placed great emphasis on sustainability and climate protection. Residential housing meets strict energy efficiency standards, ranging from low-energy houses classed as KfW 70 (70 per cent of the maximum value specified in the German Energy Conservation Ordinance) right through to passive houses.

A geothermal system supplies the entire neighbourhood with thermal energy via a remote heating network. In addition, all single-pitch roofs are pointed towards the south in order to allow the use of solar energy systems. Energy efficiency and product quality were also important criteria in the planning of the technical specifications for the public areas of the neighbourhood. The local authority therefore chose an LED-based solution for street lighting.

The six main thoroughfares and many residential streets in the neighbourhood are illuminated with RFL530-SE LED street and area lighting luminaires from WE-EF. With a nominal wattage output of just 29 watts or 59 watts per luminaire, it has been possible to implement a system that ensures consistently low energy costs. The long service life of the LEDs also makes the regular lamp replacement of conventional lighting elements a thing of the past, providing tangible savings for the community in terms of service and maintenance. The lighting planners were impressed with the high performance and precision lighting features of the WE-EF RFL530-SE LEDs, which includes the OLC® One LED Concept with multi-layer technology and PMMA lenses. In this installation, the luminaires are fitted with [S60] lenses, which generate a 'side throw' light distribution. They reliably meet all standard specifications for the streets in Zauberwinkel in terms of uniformity and glare reduction.

The luminaires were installed according to the needs of the overall community. RFL530-SE LED luminaires have been installed on main thoroughfares at a mounting height of six metres with a nominal wattage output of 59 watts. In areas where residential streets adjoin neighbourhood squares and playgrounds – including pedestrian pathways – the luminaire mounting height has been reduced to five metres. The higher luminance not only addresses safety concerns, but also emphasises the importance of public-use spaces. On residential streets, leading to the main public spaces, the luminaires have a mounting height of four metres and a nominal wattage output of 29 watts.

WE-EF not only supplied the luminaires for this project, but also all cable connection boxes, poles and extensions. As with the luminaires themselves, Poing chose these components for their reliability, longevity and future-proof qualities. A long service life is a clearly defined quality concept from WE-EF. This ranges from the selection of the materials (marine-grade recycled aluminium for luminaires) as well as material processing (five-level corrosion protection system), to the use of weatherproof and durable connection and sealing technology.

Intelligent electronics and an effective thermal management approach ensure efficient LED operation. A thermal sensor permanently monitors the temperature directly on the LED board. If a preset temperature is exceeded, the LED luminous flux is dimmed to 50 per cent.

With their efficiency and long service life, the RFL530-SE LED luminaires meet the essential requirements for the implementation of economical and ecological streetlighting. However, WE-EF's commitment to environmental and resource protection also goes one step further. As one of the first companies in the lighting industry to use Environmental Product Declarations (EPDs), WE-EF documents in detail the ecological footprint of its luminaires in line with ISO 14025 and EN 15804 standards.

After more than one and a half years of intensive development and evaluation work, EPDs are now available for 15 WE-EF street and area lighting luminaire ranges. These product-specific data sheets provide verifiable, comparable information about a product's environmental impact. They document the environmental influence of a product, not just for the time it is operated, but over the entire product life cycle, from the acquisition of raw materials to recycling.



Luminaires that provide effective and innovative solutions for architectural lighting challenges.
Learn more