Groundbreaking developments in solar energy storage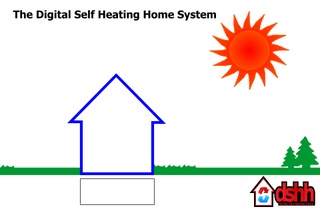 Entrepreneur and inventor Ron Theaker has finally solved the problem that Solar Installers and users of Solar energy in their homes worldwide have been wrestling with for years. How to store free, surplus, summer solar energy, in a manner that is affordable and practical. And then use it to warm the entire house during the cold winter months.
After several years of research Theaker has finally obtained patent pending (571724) status for his new Digital Self Heating Home (DSHH).
"Enough solar energy lands on every section/lot in the country, to provide many times the energy needs of a typical home." Said Mr Theaker. "The biggest issue in the solar industry has never been how do we get enough, but how do we store and use the surplus for sunless days and nights."
The DSHH system is an active solar heating system that captures free solar energy all year round and intelligently stores and distributes the heat as required using a custom designed digital controller. Designed as background heat, it can maintain a suitably insulated house at a temperature of around 18-20 degrees Celsius all winter, which substantially reduces the costs of alternative sources of energy. It can also allow for solar hot water integration as well as alternative thermal energy input such as geothermal, wetback or hot water heat pumps. The key to the DSHH system is in the huge, low cost energy storage core built below the house slab. The theory behind Thermal Energy Storage (TES) is over 60 years old and research has been conducted all over the world since then, but at the time it was originally proposed, people believed that our energy reserves were unlimited and there was little need to utilise TES.
The challenge for Theaker was to integrate that research with modern computer and electronic technology in a manner that was efficient both in terms of energy capture and utilization, as well as reasonable CapEx cost, which he appears to have achieved. The system is primarily for new residences and commercial buildings, due to the requirement for thermal efficiency in the design, plus the difficulty in retrofitting existing insulated foundation slab to accommodate the heating pipes. However, the DSHH system can also be easily modified to connect to existing central heating systems that have traditionally used boilers or gas to generate the heat required and thereby almost totally removing the operating costs of these systems. Because the required in-floor and hot water piping system is already in place the installation cost of the DSHH is greatly reduced and the TES can be installed in-ground alongside the existing house.
To date Theaker has installed DSHH systems into new homes from Invercargill and Central Otago to Wellington Raglan and Auckland with one very satisfied client in Wellington reporting the use of no heating requirements other than the DSHH system throughout his first complete winter. A DSHH home near Invercargill also used only its DSHH system for heat last year, with the fireplace wetback only being used occasionally. "..and that was mostly for aesthetic reasons", Mr B Varrain the owner quipped. Apart from the obvious financial benefits of free solar heat and its associated carbon impact, there is a growing body of research which is showing that there are substantial health advantages, especially for the young and elderly, in living in the sort of stable, warm environment that the DSHH system provides. For example, allergen causing moulds, spores and fungus are substantially reduced in houses kept above 16.5 degrees with moderate to low humidity.
It is significant to note that Theaker's website is the only home building related link on the Auckland Allergy Clinic website. With the current government backed "Warm Up New Zealand" drive towards greater energy efficiency and reduction of carbon footprints it would seem that the DSHH system has arrived at a most opportune time and if government and local bodies are serious about these initiatives, strong support for the DSHH system should be forthcoming. Theaker is currently preparing presentations for this very purpose and discussions are already underway for the possible inclusion of the DSHH system in new retirement and rest homes.
Theaker's next challenge is to overcome the reluctance in the currently depressed building market to try anything new, and to have his DSHH system offered by most if not all of the residential building companies in New Zealand. The DSHH can add around 4% to the cost of building a new home and in the current climate it will prove challenging to convince builders and home owners that this is a sound investment. However, when one weighs the initial outlay up against the fact that you will have free solar energy to heat your house as well as most of your hot water with minimal ongoing maintenance costs for the rest of the life of the home, and then add in resale value, plus the medical and health benefits, the numbers speak for themselves.
Owners will be seen to be part of the solution and not the problem. Further technical details can be sourced from a new website catering to the DSHH.
It explains: how it works, provides pricing guidelines, benefits, and a general Q&A.
More info at Digital Self-Heating Home.

Offer digitally controlled solar heating systems for homes, offices and commercial facilities.
Learn more