Haworth introduces Infinity – a total floorplate solution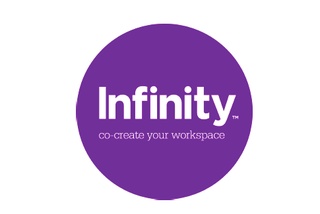 Technological change has shifted the way we live, communicate and do business so quickly that the working environment has struggled to keep up. Creating work spaces that support collaboration and new ways of working is a design challenge that is inspiring expressive, individual and unique solutions for businesses of all kinds.
As a global leader in the design and manufacture of commercial interior products, Haworth identified a need for a product that could answer myriad client requirements – in effect, a new product category that could support design, sustainability, organisational and strategic objectives, whilst being cost-effective and flexible over time. Haworth collaborated with bangdesign to create Infinity – a workspace product that is dynamic, sustainable and costeffective enough to solve not only a multitude of today's complex challenges, but also anticipate and respond to the needs of tomorrow.
The Infinity project began with a global cross-industry insights and research process. During this phase the Haworth design team consulted clients, designers and specifiers from key international markets to understand the changing needs for businesses in both established and emerging markets. With these insights the design team set out to develop a universal system with the flexibility to change and adapt to the needs of different businesses in almost any market across the globe. Infinity symbolizes a new approach to office furniture based on using integrated components to create unique workspaces that span the entire floorplate. Infinity is a reconfigurable platform with the agility to be a bridge between the traditional, contemporary and future ways of working. It has been designed on a simple platform structure that forms the fundamental framework for the work surfaces. The frame and worktops can be bolted together in seemingly endless combinations, providing unprecedented flexibility for an interior designer - and their imagination - to create any number of combinations and sizes: single desks, communal benches, board tables, low tables and more. Above the desk is a unique set of accessories that allow the end-user to truly make the space their own, all with a clear design aesthetic.
The simplicity of Infinity makes it easy to reconfigure as business needs change over time. For a client, this extends the life of the investment indefinitely.
It's just one example of Haworth's philosophy of making good things that last longer.