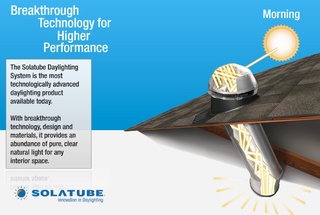 Hometech Solatube win Trade Services Category at Chamber of Commerce Business Awards.
Local company HomeTech Solatube won the Trade Services Category of the Westpac Hutt Valley Chamber of Commerce Business Awards; it was announced last night at a gala dinner held at the Silverstream Retreat.
HomeTech Solatube is a one stop shop for healthy home solutions, from heat pumps, ventilation, extraction ventilation, Ceasefire Alarms, attic stairs and roof windows, to its flagship product, the Solatube™ Daylighting System. Solatube is a state of the art roof to ceiling rigid Tubular Daylighting Device (TDD) that provides an abundance of pure, natural light to interior spaces, without using electricity.
Paul Nielsen, HomeTech Solatube's Managing Director, said: "We are thrilled to have been recognised at the Westpac Hutt Valley Chamber of Commerce Business Awards. We were up against some strong contenders in the Trade Services Category and to come through and win is something we are really proud of. To be recognised amongst our local community; where it all began some 20 years ago, is very humbling."
The Trade Services category was open to for organisations that have excelled within the trade industry and includes businesses that demonstrate superior working standards, have an emphasis on delivering an excellent product or service, strive to continually improve productivity and deliver quality customer experience.
HomeTech Solatube's points of difference were noted by judges and include their commitment to customer services, with all licensees having iPhones and iPads to enable the customer to be serviced quickly, and to ensure fast flow of information. It was also noted that the company has 25 licensees and ten contracting teams throughout New Zealand, helping the company install more than 100,000 products to 70,000 customers.
The Business Awards are open to all businesses, irrespective of size. All aspects of how a business is managed are considered by the judges, as are results. Other criteria examined by judges include business planning, staff management, customers and innovation.
David Kiddey, CEO of the Hutt Valley Chamber of Commerce, said that this year there had been a particularly strong field of entries. The judges had also reported that the task of choosing finalists and winners was extremely difficult, due to the high standard.
"While we are not in business to get awards, it is really nice to have won one! The recognition that we are doing something right means a lot to us. We will keep on doing what we are doing, which is helping New Zealanders create the healthiest home possible," said Paul Nielsen.
For more information, please contact: Christine Westbury: Tel: 04 560 9237 christine@hometech.co.nz
HomeTech Solatube: Mob: 021 911 958 www.solatube.co.nz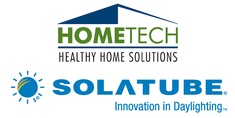 Suppliers of daylighting, condensation, heating and attic stair solutions.
Learn more