House of the Year celebrates strong numbers in 20th year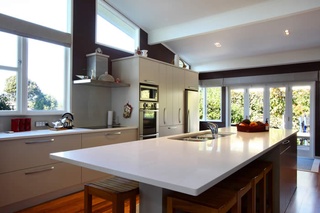 Builders from across the country are competing in New Zealand's premier building competition - the Registered Master Builders 2010 House of the Year, in association with PlaceMakers.
Now in its 20th year, the competition has a total of 530 entries nationwide, a result that Registered Master Builders Federation chief executive Warwick Quinn believes shows an underlying strength in the value of the competition.
"These entry numbers demonstrate that despite difficult market conditions, people continue to trust Registered Master Builders to deliver quality and value for money," Warwick says.
Commercial entries have also held strong for the 20th year milestone, with an increase in education projects and steady numbers across all categories.
Last year's national winner, Phil Leach, of PSL Construction, says the competition provides builders with the opportunity to showcase their creativity and trusted building techniques.
"Winning the Supreme Award is great confirmation that we are doing a first-rate job. It's a statement to our future clients that we can deliver an award-winning home," Phil says.
As principal sponsor of the House of the Year and the RMB Commercial Project Awards, John Beveridge, chief executive of PlaceMakers, says he is proud to support the competition and the introduction of the new PlaceMakers Supreme Award for the Renovation of the Year.
"The Renovation of the Year was a natural evolution, as there has been a steady increase in the number of renovations entered over the past two decades.
"Kiwi's really enjoy renovating their homes so it will be great for the industry and competition to recognise some of the work that comes of out of this new award."
The Awards are made possible by the support of principal sponsor PlaceMakers, and supporting sponsors James Hardie, Gib Living Solutions®, Pink® Batts® Ultra® (Tasman Insulation), Nulook, the Department of Building and Housing, and Meridian.
A total of 14 judges are now on the road right around the country, assessing this year's entries across 20 categories.
For further information about the competition or to enter, visit houseoftheyear.co.nz or rmbcommercial.co.nz or click through from the Registered Master Builders Federation website, masterbuilder.org.nz.

Federation of building and construction companies.
Learn more