HP reveals new Vivienne Tam Mini notebook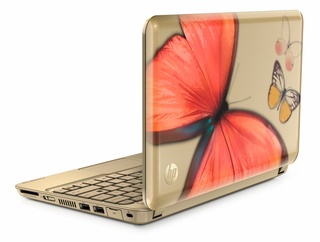 The new limited HP Mini 210 Vivienne Tam Edition has launched in New Zealand, after making its runway debut during New York Fashion Week as part of Tam's spring 2010 collection.
This Mini computer combines cutting edge features with elegant style, and blurs the lines between technology and fashion by integrating Tam's gorgeous gold and pink "Butterfly Lovers" motif into the design.
HP has been at the forefront of fashion and technology collaborations since unveiling the first HP Mini Vivienne Tam notebook with its red peony design in 2008, cementing the 'digital clutch' as a must-have for fashionistas everywhere.
With the elegant design included both on the inside and out, the new HP Mini 210 Vivienne Tam Edition is the perfect accompaniment for women on the go who aren't prepared to compromise on either style or form. The Mini PC includes a custom desktop theme, an integrated webcam (which also functions as a mirror), and HP QuickWeb to allows users to quickly browse the web, check an appointment or even send a tweet without waiting on the computer to fully boot.
The new HP Mini 210 Vivienne Tam Edition will be available from leading technology retailers and has an RRP of $999.

Head Office
Hewlett Packard New Zealand
HP House 22
Viaduct Harbour Avenue
Maritime Square, Auckland, 1001
Phone: 09 918 9...