Introducing the AF700 Gas Fireplace – More Flame, Less Frame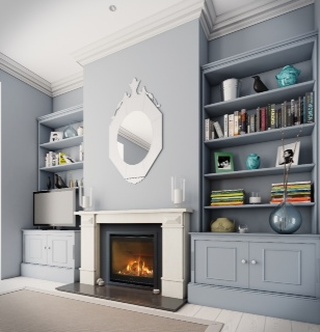 The new AF700 was designed with the user in mind. It has the largest glass display compared to competing products, maximising flame effect - a feature of key importance to customers. The flexibility afforded by minimal framing can suit classic or contemporary home styling. Heat output is enhanced with a quiet internal fan and Direct Vent flue system, which also increases energy efficiency and eliminates room drafts.
The AF700 Lead Designer, Alex Hodge, noted that New Zealand homes often have traditional, open-front wood fires paired with mantles and tiles. These fires are increasingly unsuited to modern living due to inefficiency, clean up required, smoke and environmental concerns. Retaining the ambience created by an old-style fireplace, however, is highly desirable to users. Existing brick and masonry cavities can be difficult to remove, making ease of installation a key design consideration for the AF700. The result is a gas fireplace with carefully considered dimensions, and an angular rear based on Rumford principles, meaning it can be retrofitted into existing cavities where other insert or in-built fireplaces struggle to fit. Flexi or rigid co-axial flue can be dropped down an existing chimney.
Offering 5.5 kW heat output and has a 3.8 ENERGY STAR rating, the AF700 can easily and efficiently heat a medium-sized room. It also comes with Escea's Smart Heat control technology, which lets users operate their fireplace anywhere, anytime. The iOS or Android smartphone app literally puts control into the hands of the user, allowing them to remotely turn on the fire, adjust temperature settings and set the timer.
We proudly design and manufacture our award-winning, innovative fires in Dunedin, New Zealand. Find out more at escea.com/nz