Iron­bank wins Archi­tec­ture Medal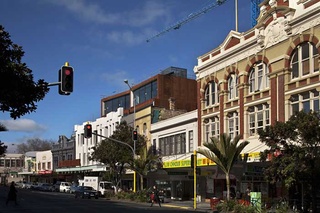 Iron­bank, the new steel-clad com­mer­cial build­ing on Auckland's K' Road, has received the 2010 New Zea­l­and Insti­tute of Archi­tects' award for the year's best build­ing.
The mixed-use build­ing, designed by RTA Stu­dio for Sam­son Cor­por­a­tion, beat out some strong com­pet­i­tion, in par­tic­u­lar from Jasmax's NZI Build­ing on Fan­shawe Steet, Auck­land. Four­teen other pro­jects were also acknow­ledged at the NZIA's annual awards din­ner, held in Auck­land on 14 May.
Award recipients are displayed in the latest issue of Architecture New Zealand. Citations and a gallery of images can also be viewed at prodesign.co.nz.

Provides coverage of New Zealand's residential, commercial and institutional architecture.
Learn more
Architecture NZ magazine products