Kaynemaile creates ceiling for MGM Grand Detroit AXIS lounge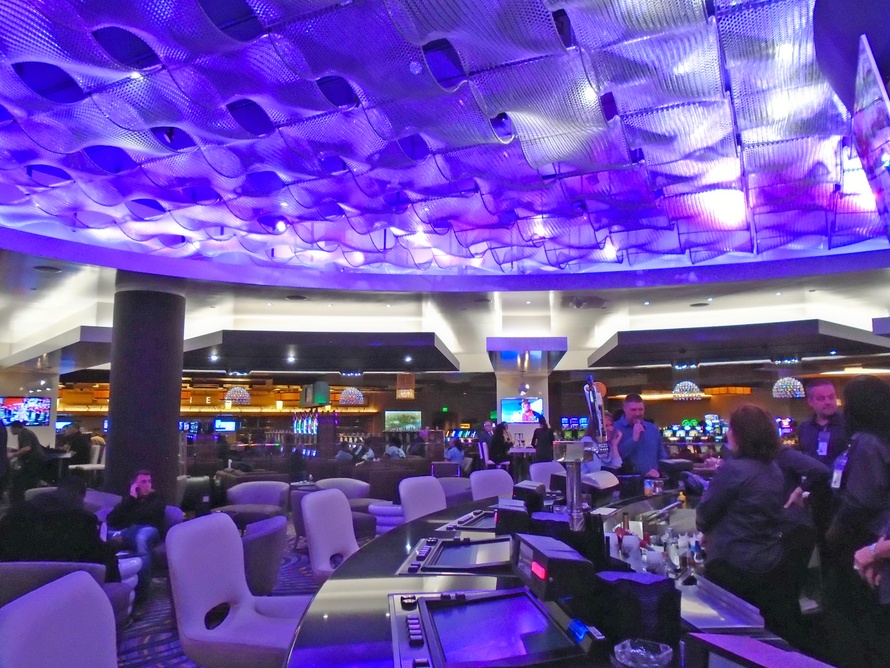 Kaynemaile is hitting the ground running by supplying architects and interior designers all over the world with their globally patented seamless mesh. One of their most recent projects is a ceiling installation in the MGM Grand Detroit Casino, USA, which has been referred to as a "really, really cool ceiling" in the Detroit Metro Times.
The Kaynemaile ceiling mesh hovers in undulating waves above the large circular bar and has been designed to work in with the Motown interior design. MGM is known for providing world-class experiences and they created a visual symphony by combining coloured lighting and Kaynemaile mesh to transform the entire ceiling into a sea of red, green, purple or blue for those sitting beneath.
Owner and founder of Kaynemaile, Kayne Horsham, stated "it is exciting to be involved in these type of projects. We worked closely with the Architect to achieve a pretty spectacular ceiling, which while looks fantastic, ticks off all the safety standards and is a bold statement as you walk in the room".
It was chosen for the MGM job because of its strength-to-weight ratio plus its ability to react extremely well with lighting. It has a very high fire rating and is rated self-extinguishing, perfect for these type of applications. "In ceiling installations like the MGM project, the benefits of Kaynemaile mesh are both aesthetic and functional –aesthetic because the Kaynemaile mesh can be shaped into different forms and functional because there is no interference with sprinkler systems, and it can hide away any unsightly building structures", said Kayne.
Kaynemaile makes the polycarbonate seamless mesh from their factory in New Zealand and is proud that it is 100% sustainable and recyclable. It's another kiwi ingenuity in engineering. It is the world's first injection moulding process that creates interlocked mesh rings without any joins, one downfall of traditional chainmail construction.
The history of Kaynemaile comes from when Horsham worked as an Art Director for Weta Workshop, where he was tasked with designing chainmail armour for Lord of The Rings movies.
After the movies were finished, Kayne went on to invent a unique seamless polycarbonate mesh – a modern version of chainmail. Kaynemaile's award-winning architectural mesh is now a global favourite, used inside and outside buildings for facades, car park buildings, airport screening, privacy screens, fall protection and lighting.
Buildings displaying Kaynemaile's stunning and super-strong mesh include the likes of Prince Mohammad Bin Abdulaziz International Airport in Medina Saudi Arabia, Dolce & Gabbana Milan, Nokia London, Chamber of Commerce Dubai , Cornell University and Auckland New Zealand, to name a few.
The rest of 2015 looks to be even busier, with Kaynemaile collaborating with well-known environmental artist and sculptor Ned Kahn. While the project is still under wraps, it will feature Kaynemaile's Building-Armour™ exterior seamless mesh.

Suppliers of architectural mesh solutions.
Learn more