Landlords increasingly turn to peer review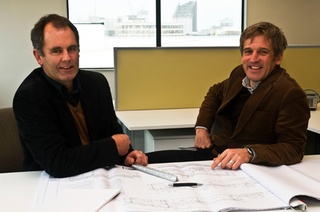 Peer reviews of structural designs by fellow engineering firms will be increasingly common as the Christchurch rebuild gets under way.
Already, peer reviews of existing buildings, which have been retro-fitted and strengthened, are far more frequent than pre-earthquake.
Steve Hogg, a technical director at Aurecon in Christchurch, said the engineering company is already undertaking far more such reviews – including DMC House in central Christchurch, to which Aurecon's engineers and designers have just relocated.
Fifty-one staff from the company's buildings team have moved into the 800m2 second storey of the four level building in Colombo St south, with the remaining 90 Aurecon staff still based in Casebook. The company was previously housed together on the corner of Colombo St and Gloucester St, overlooking Cathedral Square.
"Basically a peer review means that a second set of eyes is looking over the building or design just to see if anything has been missed."
Hogg said that while the peer review of DMC House was straightforward, with Aurecon giving the building the thumbs up, new and more complex designs would be a different matter.
"Peer reviews are going to play a key role in new design technologies, or what we call displacement based design. The rebuild will see all sorts of new construction methods for which there currently aren't any formally documented New Zealand design codes, only design handbooks supported by New Zealand and international research."
For instance, Hogg said there was currently no formal code written for what is known as PRESSS technology – pre-stressed seismic structural systems – which would be widely used.
"Most engineers have heard of this technology but because it is so new to the New Zealand market, many have not had the opportunity yet to design and detail new buildings with this type of technology."
Hogg said that most new buildings would implement new technologies, with only a small proportion opting for pre-earthquake design philosophy.
"Don't they say that one definition of insanity is doing the same thing over and over again, and expecting a different result? That applies to buildings too. You can't use the old technology and expect that it's going to perform any better than previously in the event of another earthquake like the ones we've had.
"All engineers need to be current with new technologies but there is quite a gap because not all have had the opportunity to undertake the design of a new building using low damage design technology."
Hogg said that only a handful of engineering firms in New Zealand had such experience, including Aurecon which engineered the Nelson Marlborough Institute of Technology using a rocking wall system, and the 11 storey Te Puni student accommodation building in Wellington.
Simon Taylor, who has managed Aurecon's partial shift back into town, said his team was excited to return to the city.
"This is where all the action will be and where our work will be centred. It's close to where our clients are going to build and we feel that being back in town, we are part of the action."
For further information:
Steve Hogg, technical director, 03 366 0821, 027 240 8212, Stephen.Hogg@aurecongroup.com
Simon Taylor, 021 897 950, simon.taylor@aurecongroup.com

Provides global engineering, management and specialist technical services to government and private sector clients.
Learn more