Launch in NZ of Deborah Bowness - UK designer of wallpaper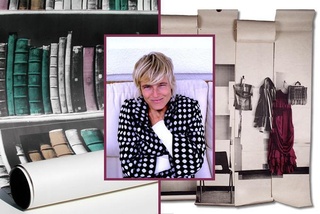 Exclusive to Paper Room New Zealand paperroom.co.nz we introduce the acclaimed artist and designer Deborah Bowness from the UK. Deborah Bowness' works combine photography with silkscreen. Deborah designs and makes digital, hand printed and finished trompe l'oeil wallpapers – trick of the eye, using life size objects such as clothes, furniture and books.
By exploring innovative concepts for decorating walls, she produces site specific commissions, limited edition prints and has a made-to-measure and Ready-made collection. Ready-made ranges Deborah has produced a collection of ready-to-buy wallpapers that demonstrate her ability to turn the ordinary into the imaginative. With papers such as 'Filing Draws' and 'Illusions of Grandeur', clients can purchase a faux room or piece of furniture. "Three-dimensional spaces or objects translated into two-dimensional wallpaper." Each drop is approximately 53-56cm wide x 330cm and are purchased as single drops, but look fantastic in multiples to create a greater effect.
Commissions
Deborah also produces wallpaper installations to commission. She works closely with the client to create a one-off, site-specific piece. She has previously worked with Polydor records, Christian Lacroix, Philip Stark, Reebok, Selfridges, Sotheby's and Paul Smith to produce one-off, site specific installations.
Ready-made Room Kits
A collection of cut out household objects. Paper furnishing for your rooms, using wallpaper decoupage. Choose from phoney phones, clocks and cagey birds. These 'place and paste' kits or wallstickers combine placement and pasting of real and photo-real objects to create unconventional, interactive wall decoration.
Our range of Deborah Bowness Wallpapers are currently available to TRADE CUSTOMERS ONLY, and can be viewed online at www.paperroom.co.nz We have a full sample range of Deborah Bowness papers and wallstickers, if you would like to make an appointment to view the range, please contact us on; sarah@paperroom.co.nz or phone Sarah on 09 376 5675 or 021 22 88 149. Many thanks Annabel & Sarah www.paperroom.co.nz

Suppliers of contemporary wallpaper, fabrics and wall stickers.
Learn more