Local company bucking economic trends with positive growth
Local Hutt Valley Company HomeTech Solatube is reporting positive growth across the board, bucking current trends which show the economic recovery is stalling.
HomeTech Solatube was established in 1992 by Lower Hutt resident Paul Nielsen. The company specialises in providing a range of healthy home solutions, from heat pumps, ventilation and attic stairs, to its flagship product, the Solatube™ Daylighting System, a state of the art daylighting system.
Initially started in Lower Hutt by Managing Director Paul Nielsen and two partners, the company quickly built up its market presence. By 1993, the company had a network of licensees nationwide, making it one of the longest running national installation networks in New Zealand. Paul was also able to buy out his business partners in 1995. Mike Cullen, National Trade Manager joined the team in 1995 and in 2001 became minority shareholder.
Paul Nielsen, HomeTech Solatube's Managing Director said: "When we started HomeTech, it was just the partners and two employees – one working in the store room, the other in administration. Since then, we have grown considerably and now have 25 licensees and ten contracting teams throughout New Zealand installing more than 100,000 products to more than 70,000 homes nationwide.
"Further to our 25 franchise owners, HomeTech also employs 20 staff across our Wellington and Auckland operations; with three new staff recently hired. We are really proud to be a locally owned company, doing business in a very challenging time. But we believe in what we do, and take great satisfaction from helping ordinary New Zealanders create a healthier home. As a result, the company has and continues to grow."
HomeTech Solatube has experienced 60% growth this past year due to the Housing New Zealand Healthy Home Stimulus programme. A substantial portion of their growth can also be put down to the success of the company's flagship product, the Solatube Daylighting System, which remains the only daylighting system Appraised by BRANZ (Building Research Association of New Zealand, Appraisal [No: 665] 2009). The Solatube Daylighting System provides an abundance of pure, natural light to interior spaces, without drawing electricity, making it the greenest way to light your home.
Further to the success of the Solatube Daylighting System, the company was awarded the Housing New Zealand contract for installing ventilation to its properties in 1993; and is proud to still hold the contract today.
HomeTech is a member of the Future Proof Building Network (FPB) and the Green Building Council and is also active within the community, having recently formed a charitable relationship with charity Skylight. This partnership sees HomeTech making a donation to Skylight for every Solatube Daylighting System sold.
"Despite the tough economic times, and evidence that shows the economic recovery is stalling somewhat, HomeTech continues to prosper and grow, and vitally, remains active in within the community. We are proud of our roots. All stock is distributed through our Lower Hutt warehouse, and wherever possible, local businesses and suppliers are used, as opposed to offshore alternatives.
"We look forward to continuing prosperity and growth for many years to come, all while helping New Zealanders to create a healthier home," said Paul Nielsen.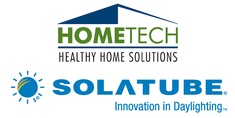 Suppliers of daylighting, condensation, heating and attic stair solutions.
Learn more