Local company gives charity a boost
Skylight and HomeTech Solatube today announced a new partnership between the two organisations that will see HomeTech Solatube make a donation to Skylight Charitable Trust for every Solatube Daylighting System sold.
The relationship between Skylight and HomeTech Solatube is a natural fit, with HomeTech Solatube letting light in to peoples' homes, while Skylight supports children, young people and their families/whanau during dark times, providing a beacon of light and hope.
Skylight Chief Executive Bice Awan said: "We are very grateful to HomeTech Solatube for their support. Their contribution means that we can reach more New Zealanders who need our help. Specifically, it will ensure we can continue to offer, and grow, Skylight services such as our extensive specialist information and resource centre on grief, trauma, loss and change.
Both Skylight and HomeTech Solatube are Wellington-based, national organisations. Skylight provides unique support to children, young people and their families/whanau through trauma, change, loss and grief, and helps more than 5,000 young people and their families each year. Skylight's services include counselling, support groups, training and professional development, advocacy, and books and other information from its extensive resource library.
HomeTech Solatube is a healthy home solution company specialising in daylighting solutions. The Solatube™ Daylighting System is a Tubular Daylighting Device (TDD) that provides an abundance of pure, natural light to interior spaces. Its complete roof to ceiling system captures daylight in a small roof top dome and redirects it down a reflective tube delivering clean, white light into the inside space without using electricity.
Working together, the two organisations believe they can make a huge difference to thousands of families. Many people do not realise that issues other than death cause grief, and that there are long term impacts of not dealing with grief, including leading to drug and alcohol abuse or mental health illnesses including depression. Likewise, increasing natural light into homes has numerous benefits; with its proven 'feel-good' factor, along with increased usability of dark spaces, and a more comfortable, healthier, lighter and brighter home.
HomeTech Solatube Managing Director Paul Nielsen said: "We feel that Skylight do such great work, and we wanted to be able to help them continue that work. There is also a nice fit between the two organisations – a natural synergy with HomeTech Solatube letting light into people's homes, making for a brighter, healthier home. Skylight's work is about creating a healthier emotional environment too. We are delighted to be supporting such a great organisation."
For more information visit solatube.co.nz or hometech.co.nz.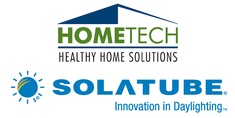 Suppliers of daylighting, condensation, heating and attic stair solutions.
Learn more