Metal Origami: "The Rock" wins 12 awards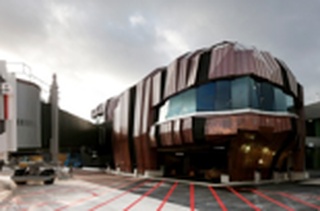 The Rock, Wellington International Airport's controversial terminal, has now won 12 awards. Most recently this included winning the Transport category at the prestigious World Architecture Festival in Barcelona and going through to being a finalist in the overall Interior Award for The World Architecture Festival.
The NZIA judges said, "Different, without a doubt, the building dubbed 'The Rock' puts its stamp, ironically, on New Zealand's air travel landscape. In its defiance of analogies about the freedom and levity of flight, the building's external language is certainly unusual. Cavernous, introverted, and mostly slick interiors articulate a singular response to geometrical and technical challenges. A collegial project team, knitted together seamlessly from two prominent practices, has produced a distinctive Wellington gateway."
Key to this unique design is the specialist copper roofing and cladding which is flawlessly folded like metal origami. Responsible for this precise metal craftsmanship is the Wellington based team at Aquaheat's Classic Metal. Swiss trained, Eric Stocker, the leading spengler*, worked very closely with Studio Pacific, Warren & Mahoney and Mainzeal through the design and structural issues to come up with the best roofing and cladding solution. In the end they decided that the combination of Double Standing and Angle Seam Profiles would work best with the various roof and façade pitches. Roof planes with a pitch of up to 15° required Double Standing Seam Profile while all other facets of the building with a pitch greater than 15° required Angle Seam Profile.
*Spengler is the German name for the Trade and Craftsperson specialising in the production of high quality architectural details utilising sheet materials.
Nine months into the project and 3000 copper panels had been made for the building's exterior and 600 panels for the terminal's interior. The complexity of the project, where there was not a single straight or square panel on the entire job, was the greatest challenge. Accurate marking and measuring was vital to the project. Every panel was tapered and had to be individually measured and manufactured.
For the duration of the contract there was a constant flow of Aquaheat vehicles with collected measurements from the airport site to Aquaheat's Tawa Workshop and a return journey with precisely folded copper panels for each section.
Specialist systems require specialist installers. Aquaheat's Classic Metal team members are front runners within the Wellington architectural metals industry and provide excellent workmanship from a team of European trained spenglers and tradesmen. Classic Metal use only premium materials including VM Zinc, KME TECU Copper, Colorcote products, stainless steel and aluminium. Aquaheat's Classic Metals team have the expertise to use these products to their best advantage to ensure weather-tight protection, durability and maximum life span.
To quote Tim Meulenbroeks, Manager of Aquaheat Classic Metal, a division of Aquaheat Industries Ltd: "The project may have initially been coined "the Pumpkins" and the design attracted some heated discussion. However we believe the finished building is something quite magnificent."
For further information:
www.classicmetal.co.nz
www.aquaheat.co.nz
Contact:
Eric Stocker, Classic Metal – 021 446 189
Tim Meulenbroeks, Classic Metal – 04 232 5179, tim.meulenbroeks@aquaheat.co.nz
Uddhava Sharplin, Classic Metal – 021 605 233, uddhava.sharplin@aquaheat.co.nz

Suppliers of building services and climate control solutions.
Learn more