Metro Glasstech wins industry award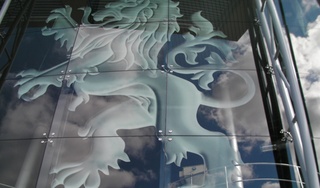 Metro GlassTech are proud to announce their recent success wining the Glass Association of New Zealand (GANZ) Award for 'Best Use of Glass' for Project Century, the Lion Nathan Brew House.
The 8m high digitally printed glass lion which is the key glass feature of the new Lion Nathan brewery and showcases the panel printing capabilities of Metro GlassTech's GlassJet digital printer.
The four-level building has a 14 m high faceted structural glass spider facade which provides a transparent front to showcase the brewery business, – something Lion Nathan wanted to make a key feature of the brewery.
One of the challenges for Lion Nathan was how to showcase their brewery business while also branding the building. Metro GlassTech recommended an 8m high lion printed by GlassJet, the first ceramic ink digital printer of its type in New Zealand, on the 16m-high glazed facade. This would serve both needs, a glass case effect to their business as well as a large scale detailed logo on the glass facade.
The end result is a distinctive branded glass facade which has contributed to making the new Lion Nathan breweries a landmark building in Auckland.
Mike Kelly, project director for Beca, the firm responsible for project management of the site comments, "This is a first for a New Zealand project and is just one example of the ingenuity, collaboration and tenacity that has characterised this entire venture."
GANZ awarded The Drake as a finalist, which also called upon Metro GlassTech's technical design for an innovative solution to create a uniquely engineered glass facade using the first EVA laminated toughened laminated printed louvers and innovative louvre and glass balustrade fittings. As well as Wellingtons Supreme Court, which a included a glass feature ceiling; an eight-panel dual glazed window, allowing public view into the courtroom from the street; a spiral stair balustrade and enclosure; a glass door and concourse wall cladding.
Metro GlassTech CEO, Andrew Bailey, comments "As New Zealand's leading glass business we offer our clients innovative solutions which meet their requirements. Glass as a design element is something which is continuously evolving, and it is great to see it being used as an energy efficient, aesthetic and key feature solution throughout more and more projects through the country."
Metro GlassTech would like to thank all those involved in these successful projects, and those who contributed to the concept; design and glazing of these unique glass facades.
Special mention to Becca, Mainzeal and D&H Steel for their collaboration with Metro GlassTech on Project Century. Also to Leuschke Group and Good Brothers Construction for their collaboration on The Drake project. As well as architects Warren and Mahoney and Mainzeal for collaboration on the Supreme Court project.

Supply commercial and residential glass solutions.
Learn more