Morlite Aluminium Wins WANZ National Supreme Award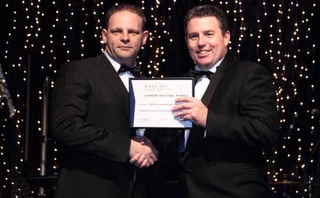 Morlite Aluminium (Nulook) recently won the WANZ Design Flair Commercial Building over $100,000 category on the way to winning this year's 2011 WANZ Design Flair Supreme Award.
The award was presented to Brent Griffin, Managing Director of Morlite Aluminium by WANZ president, Darren O'Riley . The judges commented, "It's in this class that the heavyweights come head to head. This project features beautifully twisting sun control screens and one of the few well worked double skin facades in New Zealand".
Morlite's entry was of the Orokonui Ecosanctuary Visitors Centre, a stunning 5 Star Green Building designed by Tim Heath of Architectural Ecology. Tim had earlier paid tribute to the teams of joiners and contractors that coaxed this difficult asymmetrical form into a reality.
The aluminium joinery was designed to lean out eight degrees at the top whilst on plan the building is on a facetted curve. The head of the windows are also raked from a height of 6.4 metres at the apex down to 3.5 metres at the end of the curve, add to this the need for sloped transoms with activating opening sashes both at the top and bottom of the windows and you have some idea of the challenges to meet the architects vision.
Morlite worked along side Naylor Love Construction on this project. Project Manager Dave Hanning said, "The design of the building was technically complex, the atrium was extremely challenging conceptually and the practical fabrication, transport and construction was similarly difficult. And yet the team at Morlite delivered superbly".
The result highlights the attention to detail that was required and the pride that the craftsmen involved have in undertaking tough challenges, says Hanning.
For more information on the WANZ Design Flair Awards go to the WANZ website www.wanz.co.nz.

Nulook Windows & Doors products