New Canon Laser printer ideal for small business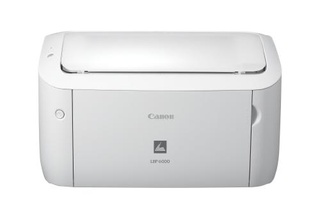 Canon today introduced a new model in its LASER SHOT range of printers, designed to meet the demands of dynamic small businesses.
The super stylish LASER SHOT LBP6000 replaces the extremely popular LBP3100B laser printer.
The new LBP6000, perfect for the small business or home office, is a compact entry-level unit that prints up to 18 pages per minute (A4) with instant warm up and significantly lower power consumption.
With Canon's unique On-Demand Fixing System, the LBP6000 heats up only when needed to achieve lower power consumption. Ensuring it is always ready to print when you are, instant warmup (zero seconds from the stand-by mode) means there is no costly down-time or wasted productivity.
Small businesses will benefit from Canon's all-in-one Toner Cartridge technology, which lowers the running costs of the printer.
By amalgamating the Transfer Unit, Photosensitive Drum and Waste Toner Container – all the parts that can run out and are usually supplied individually - users can enjoy hassle-free maintenance, plus the convenience and cost saving of only ever replacing the one unit.
"Smart businesses will look for improved cost savings and energy efficiency, and with the LASER SHOT LBP6000 there's no need to sacrifice quality and style for affordability," says Robert de Jeu, Brand Manager – Print Solutions, Canon New Zealand.
"The LBP6000 laser printer combines high-performance with aesthetic appeal in an affordable package, making it ideal for any small business or the home office."
In addition, the Canon LBP6000 is equipped with the very latest Canon High Performance Printing System (CAPT), delivering high speed by leveraging the processing power of the PC to process large amounts of data quickly, without the need of additional printer memory. This feature allows for a more compact design, delivering space-saving benefits.
Using Canon's unique Automatic Image Refinement (AIR) technology, the LASER SHOT LBP6000 also delivers brilliant quality B&W with exceptional edge definition (equivalent to 2400 x 600 dpi) to produce documents with sharp, clear text and graphics.
"Building on Canon's success for delivering imaging solutions to businesses of any size, the new LASER SHOT LBP6000 once again takes laser printer performance and value to a new level, helping small businesses to better compete in today's business environment," concludes de Jeu.
Key features:
• Entry-level mono laser printer
• Fast printing (18 page per minute speed)
• Low Power Consumption and instant warm up (0 secs from stand-by mode)
• Easy maintenance using all-in-one cartridge – less consumables to stock and less fuss, saving businesses money in the long run
• High-definition mono print (brilliant quality B&W; equivalent to 2400 x 600 dpi)
• One Shot Printing using Electrostatic Transportation Belt and in-line toner cartridges • Connectivity - USB 2.0 high speed connectivity for faster data transfer
• Prints on a variety of media including heavy paper, transparencies, labels and envelopes
• Status Window – displayed on the computer with sound and icon to inform print job status
Pricing and Availability
The LBP6000 (RRP $149.95) will be available from late August 2010 through Canon New Zealand Authorised resellers. For more information customers can contact Canon on 0800 222 666, or visit the website at canon.co.nz
Provides imaging solutions for commercial and residential markets.
Learn more