New double action reduced swing doors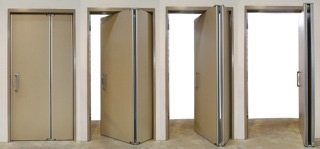 Pacific Doors System Limited introduce a new double action reduced swing door for hospitals and rest homes.
Over several years Pacific Door Systems have steadily introduced a high-quality range of speciality doorsets for the health care sector. Starting with a selection that would be an asset to any corporate office, the range now includes doorsets designed to offer a wide variety hygienic and security options, fire and smoke control, X-ray barrier, neutron shielding and acoustic doorsets.
The new double action reduced swing doorsets are technically articulated doors with one panel that's twice the width of the other, when you push or pull the handle the wider panel pivots in a track above the door, simultaneously swinging and moving sideways, to fold flat against the narrower panel. As the wider panel pivots at mid-point while moving sideways, its outward swing is only about one third that of a single wide door.
This means there's no need for people with limited mobility to manoeuvre backwards in order to avoid the door hitting their knees, walker, or wheelchair.
The criteria for a world-class doorset was to pass an Opus-supervised endurance process that would test for 100,000 full cyclic openings and closings.
The initial test was to develop hardware that was not only smooth in operation, but more robust than could be sourced from anywhere else in the world. Exactus Ltd., a leading product development engineering consultancy was enlisted to help design, prototype, test and manufacture the pivoting hinge components.
The doors panels and frames are made by the skilled team at Pacific Door Systems in Seaview and Timaru who make the reduced mobility doorsets in three versions for an original fit-out or retro-fitting of hospitals and rest homes:
Double-Action reduced swing, opens/swings in both directions,
Single-Action, reduced swing, opens in one direction
Break-Out, provides emergency access to rescue a resident or toilet-user who has collapsed or fallen.
For more information, please visit www.pacificdoors.co.nz and register to download full specifications, or email sales@pacificdoors.co.nz

Manufacturer of high performance institutional, industrial, and commercial doors, windows, and panels.
Learn more