New IXUS 300 HS digital camera spearheads the IXUS range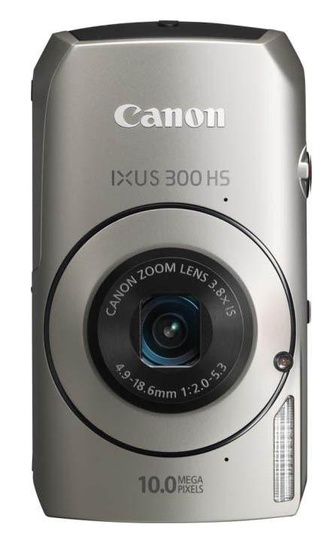 Canon today announced the newest addition to its popular IXUS digital compact camera range – the IXUS 300 HS. The IXUS 300 HS lives up to the brand's reputation of incorporating innovative photographic technologies into cutting-edge, compact design.
This announcement exemplifies why Canon IXUS celebrated 10 years of design leadership last week. This new powerhouse digital compact camera is the first of the IXUS series to offer a high sensitivity system, known as Canon's HS SYSTEM, incorporating a new CMOS sensor with Canon's DiG!C 4 image processor.
Offering consumers the highest image quality available in an IXUS-series camera, these features help to capture those wonderful moments in low-light conditions. The IXUS 300 HS camera also has high definition (HD) movie-shooting capabilities with a new Super Slow Motion movie function, allowing users to capture memories in stunning video, as well as in stills. "Having just celebrated 10 years of style, innovation and photographic excellence for IXUS digital compact cameras, we are excited to be launching a new IXUS product that lives up to, and we believe surpasses, this reputation," says Rochelle Mora, Brand Manager – Imaging, Canon New Zealand.
"The IXUS 300 HS delivers the highest image quality available in the IXUS range and the new high sensitivity sensor lets users take better photos in a wider range of situations including low-light scenes." Easily capture creative high-quality images.
The new IXUS 300 HS will be an essential accessory in low-light situations whether it be enjoying a sunset or dinner with friends in a dimly lit estaurant. The new 10-megapixel back-illuminated CMOS sensor, in conjunction with the DiG!C 4 image processor creates Canon's HS SYSTEM which enhances image quality in low-light situations and helps reduce noise at high ISO speeds.
Along with Canon's HS SYSTEM, the f/2.0 lens further increases image sharpness and quality by allowing more light to enter, permitting higher shutter speeds and in turn reducing the effect of camera shake. The IXUS 300 HS has the fastest high-speed burst rate to date1 in a Canon compact digital camera with 8.4 frames per second (fps)2, meaning users will never miss a moment.
In addition, the combination of Canon's HS SYSTEM and the f/2.0 lens enables users to take photos without a flash, resulting in a more natural look while providing greater depth of field, perfect for portrait photography and taking shots of your friends. The new IXUS 300 HS also incorporates Canon's TruCapture technology, making it easy for users to get the shot they want. TruCapture combines three Canon proprietary technologies – Optical Image Stabilizer for clear, sharp shots; a DiG!C 4 Image Processor for true-to-life colours; and Intelligent Auto that makes taking photos easy.
New to the IXUS camera range, the IXUS 300 HS has aperture and shutter controls allowing for further flexibility and creative control, making this camera great for shooters who are interested in getting even more out of their photography.
For the design-centric A treat for the eyes, the IXUS 300 HS has beautifully-crafted curves, texture and a modern look that appeals to a design-conscious user. With all of its new features, the IXUS 300 HS elevates the current IXUS series, offering advanced settings in a polished, sculpted, compact frame, making it an essential item to tote anywhere.
Get creative with HD Movie The addition of the HD movie feature in the new IXUS 300 HS is one of the most distinguished characteristics that make this camera a must-have for anyone with an HDTV. This dual-purpose camera allows users to creatively compose video, helping to capture spontaneous and unforgettable moments such as a night out with friends or a child's Graduation Day. Users can also have more fun with HD movie footage by using the My Colour function, composed of Colour Swap and Colour Accent options. In addition, video content is easily downloaded from the camera via USB connection and can be easily played back on your HDTV via HDMI output connector.
The new Canon IXUS 300 HS features a new Super Slow Motion movie function that allows users to record video at a very high frame rate, possessing the appearance of slow motion when played back at regular speed. The Super Slow Motion movie captures a subject at 240 frames-per-second (fps), and later plays back the footage at 30 fps, allowing each moment of footage to be appreciated in super slow motion while maintaining great image quality.
Additional Features
A 3.0-inch wide angle (28mm equivalent) wide screen LCD allows for easy on-camera previewing and reviewing of menus and images.
A 3.8x optical zoom with optical image stabilization helps users get closer to their subject while maintaining clear and crisp image quality.
Eye-Fi memory card connectivity, where wireless data can directly transfer to PCs.
New scene modes, such as miniature and fish-eye effects enable more creativity.
Smart Shutter technology automatically takes pictures when a person smiles or winks; resulting in less re-takes.
The new IXUS 300 HS is available in silver.
1 Depending on the shooting conditions, camera settings and the zoom position, the shooting speed may slow down. As the number of images increases, the shooting interval may take longer. 2 Resolution of photo is reduced to 2.5MP Pricing and Availability The IXUS 300 HS (RRP TBC) will be available from June 2010 through Canon New Zealand Authorised resellers nationally. For more information customers can contact Canon on 0800 222 666, or visit the website at canon.co.nz.
Provides imaging solutions for commercial and residential markets.
Learn more