New look for Houses magazine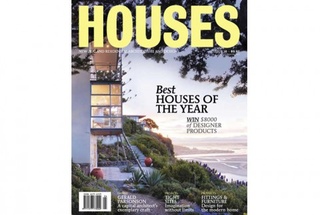 Houses magazine has been redesigned, and the latest issue, which is on sale today, is the first to sport the new look. The magazine's reinvigorated design substantiates Houses' position as New Zealand's premier residential architecture magazine.
To celebrate the re-launch of Houses, one lucky reader will win an $8000 of designer products, comprising: a Coastal Design Coco daybed; a Series 7 chair from Corporate Culture; a Kent Firenze wood fire; an Orbiq Triflow kitchen tap and spray rinse from In Residence; and Apco Ezicover paint to the value of $1700.
To triple your chances of winning, subscribe to Houses here: architecturemedia.com/secureagm.
Houses Issue 16 features the year's best houses (as recipients of NZ architecture Awards), new products for the modern New Zealand hose, several houses on tight sites, and a profile of Wellington architect Gerald Parsonson, whose residential architecture work is known for its exemplary craft.
Ken Leung was the creative director behind the redesign of Houses. Ken drew on the craftsmanship of traditional architectural drawings and their hand lettering when he refashioned the magazine. Ken has worked on Monocle and Vanity Fair, and currently leads the London-based design consultancy Modern Publicity.
In addition, Matthew Straker has joined the Houses team as Art Director. Matthew is an award-winning designer from the UK. He has redesigned numerous newspapers and magazines, notably at The Independent in London, and Simply You Living and the Listener magazine in New Zealand. You can see some of Matthew's designs at matthewstraker.com.
View more from Houses magazine here.

Focuses on coverage of New Zealand's best residential architecture.
Learn more
Head Office
AGM Publishing Ltd
409 New North Road
PB 99915 Newmarket
Kingsland, Auckland, 1149
Phone: 09 846 2...