New standards set for sustainable building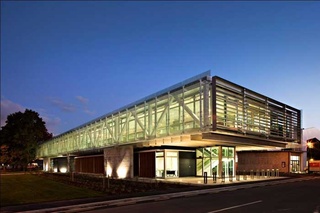 Three properties last night awarded at the annual Property Council New Zealand Rider Levett Bucknall Property Industry Awards have set new standards for sustainability. The NZi3 Innovation Institute, University of Canterbury, won an excellence award in the Resene Green Building Property Award category. Judges (in the NZGBC Technical Committee) said the building was an exciting demonstration of how an integrated design approach with sustainability at its core can deliver an exceptional outcome.
The design brief sought a building that conveyed the spirit of innovation underpinning NZi3 and judges said the innovation displayed in the building responded strongly – creating an environment that fostered creativity and encouraged communication. Its environmentally sustainable features include solar shading by passive and active elements, an environmentally-focussed selection of materials, phase change material to reduce cooling needs, mixed mode environmental control utilising under floor air distribution (UFAD) and under floor heating (integrated with the active facades), intelligent lighting control and daylight harvesting and rainwater collection and reuse. The judges were impressed with the extremely well integrated and complementary environmentally sustainable systems, successfully achieving good acoustic performance and natural ventilation, resulting in a building that presented a benchmark for others to follow.
Two buildings received a Merit Award in the Resene Green Building Property Award, the Deloitte Centre in Queen Street, Auckland and Aorangi House in Wellington. Genuine green credentials The Deloitte Centre is a five-star Green Star Office building and a leader in the market with respect to the scale of the environmentally sustainable design features implemented. The materials selected, energy and water use and waste management were given careful design attention and judges said the retention and restoration of the key features of the historic Jean Batten Building added to the achievement. Judges said the Deloitte Centre was a great example of a premium office tower with genuine green credentials. Judges considered the building set a new standard for a commercial building in Auckland's CBD. The building represented the convergence of premium grade office standard and five-star aspirations, they said. Unfashionable to desirable Aorangi House was awarded a Merit Award in the Resene Green Building category for demonstrating how an unfashionable building from a past era could be refurbished into a desirable environmentally sustainable building with a new lease of life. The building's exterior was reclad and externally insulated to its full 12-storey height. Sun louvers, while providing solar shading, also allowed good daylight penetration and external views. The building uses mixed mode environmental control, mostly based on natural ventilation with a supplementary cooling system. Judges said the building provided a very good direction for the Wellington market of how a building can be refurbished to become a good quality green building, without resorting to full HVAC (heating, ventilating and air-conditioning) solutions. At a cocktail reception and gala dinner in the Langham Hotel's Great Room, in Auckland last night, 750 guests celebrated outstanding commercial property projects developed in New Zealand despite challenging economic times.
Chief Judge John Dunn said as expected in the current economic climate, there were fewer entries this year but the quality of submissions and developments was very high. "Despite the Global Financial Crisis the quality and consistency of submissions were excellent across all categories this year – more so than previous years."

Represent all forms of commercial property and property investment in New Zealand.
Learn more
Head Office
Property Council New Zealand
Level 4, Gosling Chapman Tower
51-53 Shortland Street
Auckland
Phone: 09 373 3...